Can we train STRENGTH using just our bodyweight? Absolutely! This is week 4 in our 5 week series of Bodyweight Workouts – all White Label so you can brand as your own & use in your business. This week is pure STRENGTH building … using gravity and the floor to act as resistance.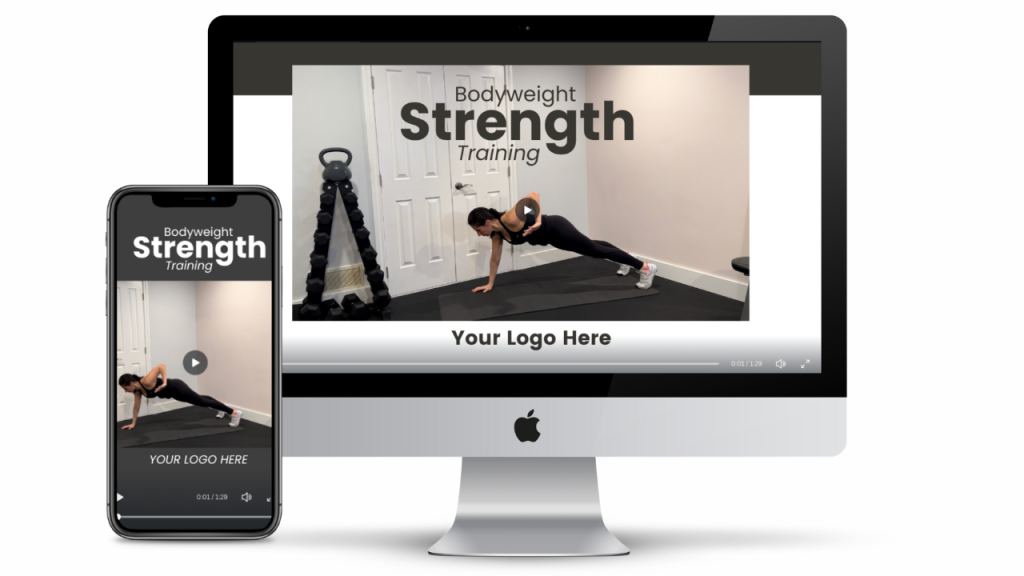 How to use this workout in your business:
Click the links below – they will take you to CANVA (You just need a free account with Canva to use them) .. then drop in your logo in the placeholder … adjust any fonts, colors & styling to match your brand … then share away!  Ask if you have any questions or need any help with the editing.  I'm happy to help …
Click to edit & download the HORIZONTAL video >
Click to edit & download the VERTICAL video >
In case you missed them, here are the first 3 weeks in this series …
Stay tuned for next week – the final addition in this series – it's going to be MOBILITY!  
Suggestions for the next series?  What would be helpful in your business?  Have YOU been enjoying this 5 week series?   I'd love to hear your thoughts.  I'm here in service to you, so feel free to reply and let me know of any requests and feedback …
Need more content??
And … for those who are looking for even more Done For You fitness content to brand as your own and share in your online coaching business .. check out my other services …
The #Fitspiration Monthly Content Club: 
A monthly membership that sends members exclusive content of exercise explainers, workouts, calendars & tracking sheets – all packaged together in a monthly set.  Learn more here >
The Online Fit Pro's Business Blueprint: 
The complete online fitness coach's business in a box!  Helping online coaches build their tribe through all 5 stages of the customer lifecycle (attract, engage, convert, support, scale).  Everything you need for your fit biz is done for you & included!  Learn more here >
As always, I'm here and happy to help YOU build your business. I truly love hearing from you and chatting. Reach out anytime! You can reply to this email or email me directly at hello@whitelabelworkouts.com
In service to your massive success,
Ro ~ The Online Fitness Specialist