More FREE Resources for FITness & Health Coaches coming your way … and a couple updates from WhiteLabelWorkouts.com – including a launch of the #Fitspiration Monthly Content Club. Read on for your FREE resource and the content club launch …
FREE White Label Workout of the Week …
Week 2 in our 5-week series of BODYWEIGHT White Label Workouts is coming in HOT!!! Week 1 was all about POWER – and it was SO FUN (here's the link incase missed that one) … Today we're rocking Agility & Coordination.
We're training agility, working like athletes this week. We're focusing on being light on our feet with quick directional changes. AND – using compound movements to train our brain & coordination at the same time. This is another FUN one 🙂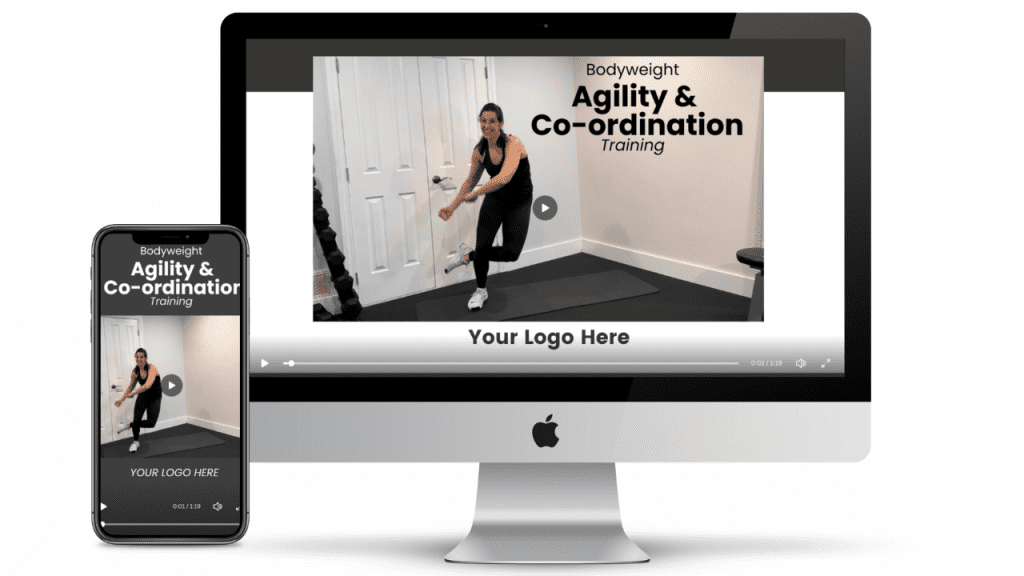 Click here to edit & download the HORIZONTAL video in Canva >
Click here to edit & download the VERTICAL video in Canva >
If you're new to the WOW … YES! I really do share these white label workouts each week for FREE for all coaches who'd like to use them in their business. If you're seeing this, that means you're welcome to use them too. But you gotta have fun with it … that's our deal, k?!
How to use this FREE RESOURCE …
These WOWs (workouts of the week) are here for you to use in your business to help attract and engage your audience … and lead into sales & income for YOU.
Click on the link above and edit the videos to match your business. I provide both horizontal and vertical videos. Use whichever suits your needs in your business best.
Drop in your logo and contact information, change any font, colors or styles to match your brand, and make any other edits you'd like. You have full freedom to make these videos your own.
Download your edited videos
Share them! You can post these videos on social media, send them to clients, post them in a fitness app, or however else you'd like some extra fitness content.
Stay tuned for next week when another WOW comes out … and repeat.
We're having an epic time with our BODYWEIGHT series – focusing on the key principles of fitness: Strength … Power … Balance … Agility … Coordination … Endurance … Flexibility & Mobility.
Go edit & download your videos .. then share away! Use this tool each week to help you attract, engage, and lead into sales for YOU in your fitness business.
Want even MORE of these workouts? With a whole ton of other awesome included? Keep reading, my friend …
The Launch of my newest monthly content … the #Fitspiration Monthly Content Club
Does YOUR CREW love these workouts, and you'd like even more to share with them? I'm SUPER excited to be launching an all new Content Club – I'm calling it the #Fitspiration Monthly Content Club ( #FMCC for short!)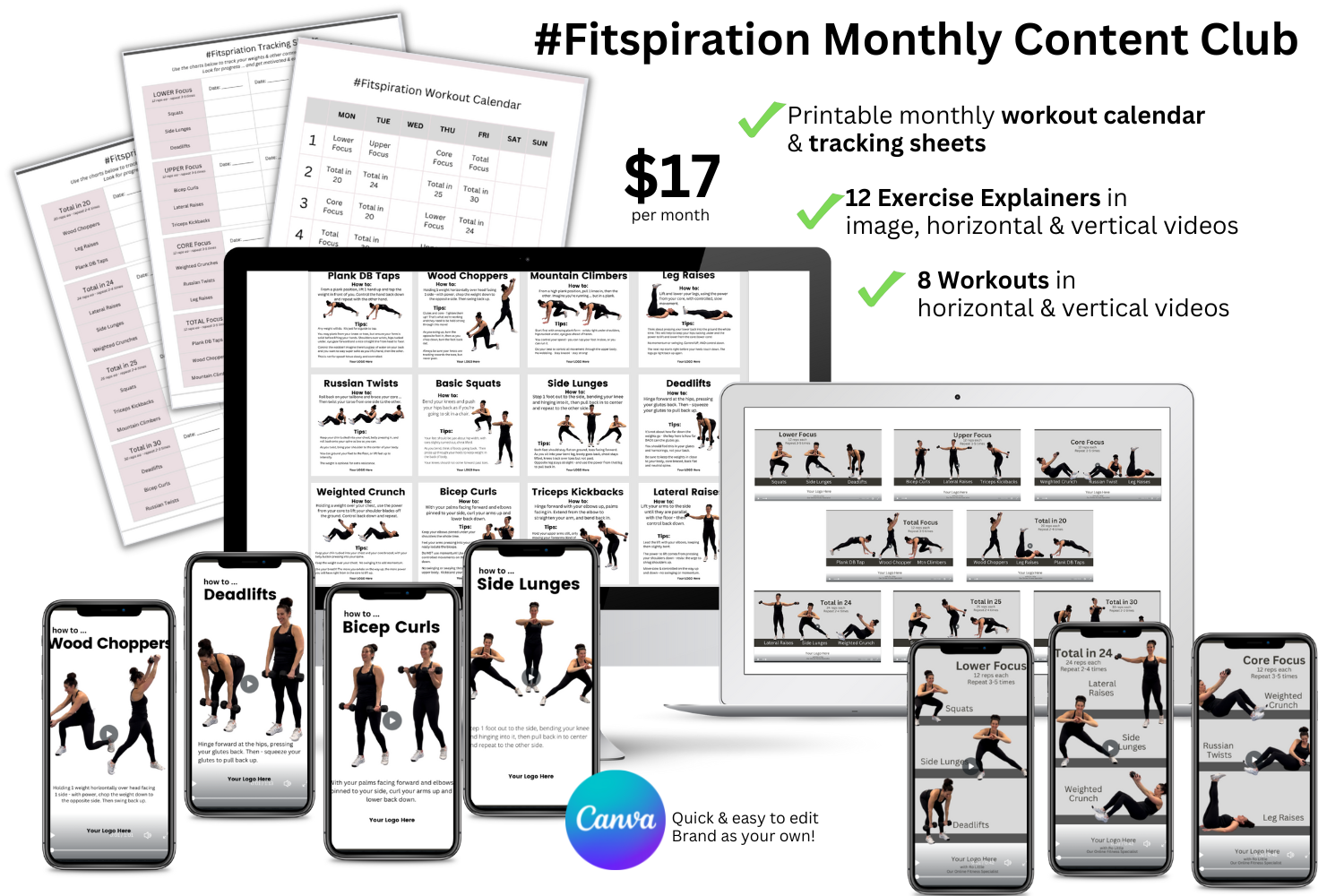 What comes in the #FMCC? Well – it takes what we've started here with the WOWs .. and goes to the next level …
12 unique Exercise Explainers a month – these exercises are used in the month's workouts, and each month is a different set. I provide you with images, and videos in horizontal and vertical formats – explaining each of the exercises in great detail. How To's, tips to get the most out of the exercise, modifications & intensification. Customers LOVE LOVE LOVE these explainers!!!! HUGE value for them .. and you!! These are fully editable so you can drop in your logo, and easily edit to match your branding.
8 workouts a month (similar to the format here with the WOWs – short 'summary' workout videos) – in both horizontal AND vertical formats. DOUBLE the workouts that you get here with these WOWs … and the 8 workouts are designed to fit together in a monthly theme with the 12 exercises.
A monthly calendar for your clients to print up and track the workouts through the month. They'll never question what workout to do each day – it's all listed out for them.
Tracking sheets for each of the workouts – to help you look like the rockstar coach you are, and for your customers to be able to track progress – getting stronger & fitter as they go through the month.
Exercises – Workouts – Calendar & Tracking Sheets. It's all included with the #Fitspiration Monthly Content Club! Best part!! ALL this content is only $17 a month! Yup – less than the cost of a pizza!
You can sell these workouts & exercises to clients for whatever you'd like – or give them away free to help build your audience. You can share them on social media, on your website, or in an app. It's totally up to you. Edit away and make them your own.
Excited to learn more?? OOOOOO I can't wait to share it with you!! I'm just putting the finishing touches on the membership now … Email me and I'll add you to the list to be notified first when I launch within the next 3 days!
Another UPDATE …
Today is the LAST DAY to get started with JANUARY content in our Online Fit Pro's Business Blueprint.
This is our ULTIMATE Toolbox for Fit Pros – giving you everything you need through ALL 5 stages of the customer life cycle. Attract – Engage – Convert – Support – Scale.
Literally EVERYTHING you need for your fit biz included in the Blueprint – from done for you social media posts … to engaging 21 day fitness challenges … to all your client's online workout programming. It's all done for you and included.
This is our ultimate toolbox – and today is the LAST DAY to grab January content. February content launches on Tuesday! Learn more here: White Label Workouts Online Fit Pro's Business Blueprint >
Phew!! WOW so much is happening right now at WhiteLabelWorkouts.com!! So much excitement. So much awesome. SO MUCH FUN :)!!! If you're looking for done for you fitness content to help explode your fitness and coaching business – you are definitely in the right place.
Not sure where to start or what path is best for you? Reach out. Let's do a strategy call and I'll help you map it all out. Email me and let's set up a call this week. I'm here for you.
In service to your massive success,
Ro ~ The Online Fitness Specialist
Got questions? Looking for extra support? Want to hang out with other coaches? Join the White Label Workouts community on Facebook. I often go LIVE here with updates, I give exclusive content and discounts, and it's a great place to hang out. We'd love to have you in the community.