Hey fellow Health & Fit Pros!
Hope you're doing amazing – and having fun rocking into the holiday spirit!  Planksgiving is in FULL SWING here at WhiteLabelWorkouts.com … 
---
In this newsletter:
Compiling the biggest list of plank variations … ever!  (I need your help with it!)
This week's white label workout of the week:  Total LIFT & PLANK
FREE GIFT:  White Label 7-Day Planks & Thanks challenge
Grab your SECRET CODE to the Black Friday Early Access Sale … on NOW! 
---
Building the PLANK LIST!
So I decided I wanted to do something SUPER FUN!  I wanted to compile the BIGGEST list of plank variations … ever!
Planks can be done a MILLION ways!
Let's collaborate on this … get super creative and together build the biggest list of plank variations!
I'll get the list started. Then … I'd love to hear what other planks YOU can add to this list.
Here we go …
High plank
Low plank
Side plank
Reverse plank
Plank shoulder taps
Plank leg lifts
Plank to downward dog
Plank to beast
Plank alternating knee tucks (mountain climbers)
Plank twisted knee tucks
Plank oblique knee pulls
Hip dips
Plank rockers
Side plank openers
Thread the needle
Plank Rows (renegade rows)
Plank Dumbbell drags
Plank side punches
Plank forward reaches
Plank swimmers
High Low Plank
Plank jacks
Side plank dips
Side plank crunch
Yeay – I got 24.  I know there are MANY more! 
I'd love to see how big we can get this list, collaborating together on it.  Comment below OR email me at hello@whitelabelworkouts.com and send me your plank variations. Next week I'll blast out the bigger list.  
Together, can we make it to 50? I bet we can! But I need your help. Reply back and send over your planks!
---
The White Label Workout of the Week:
And now … let's dive into this week's  White Label Workout of the Week … continuing the PLANKGIVING theme …
🏋️ Total LIFT & PLANK Workout: Unleash the Power!
Check out the video to see this week's workout in action …
Get ready to elevate your fitness game with our latest workout – LIFT & PLANK! This week's routine combines the strength-building magic of full-body lifts with the core-engaging intensity of plank variations. You'll need your trusty dumbbells for this one.
Here's the breakdown:
Superset 1: Squat clean & press + Plank dumbbell drags
Superset 2: Rotating lunge curls + Side plank dumbbell openers
Superset 3: Hinge & fly + Weighted plank dips
Do each move for 10 reps, then repeat each superset three times. It's a total-body burner designed to leave you feeling strong, energized, and ready to conquer anything!
Coaches … here's the fun part!  As we do every week, these white label workouts are for you to 'STEAL!' 🕵️‍♀️   Rebrand them, make them your own, and share them with your crew. 
Yes – it's me in the videos .. simply let them know we're in this together, building and collaborating to elevate the fitness experience. People love a good collab as much as they love a good plank 🙂
We're collaborating on building the plank list, right? So we can collaborate in these workouts too 🙂
How to Grab Your Workout:
Simply click on the links below.  You can choose vertical or horizontal format.  The links take you to CANVA (free account needed).  Edit away to make them your own.  Add your logo – feel free to change up any fonts, colors & styling to match your brand.  You can even adjust the final screen to promote whatever 'next step' you'd like your crew to take.  Selling a service or program?  Add it in here.
Click here to edit & download the LIFT & PLANK workout in HORIZONTAL format >
Click here to edit & download the LIFT & PLANK workout in VERTICAL format >
Yes – it's completely FREE for you to use this workout in your business.  All I ask is that you reply back and send me some feedback on it, k?  I use your feedback to help improve the workouts, and cater them to your needs.  We truly DO collaborate 🙂
---
Grab your PLANKS & THANKS 7 Day Challenge – FREE!
Last week I shared the 7-Day Planks & Thanks Challenge. Did you grab your copy yet?
Everything you need to market & host this challenge is included:
3 days of pre-launch marketing posts & images 
7 days of challenge posts & images … including a plank of the day AND a gratitude prompt of the day
It's all WHITE LABEL – edit away & make it your own
Did I mention I'm sharing this 7-day challenge with you, for FREE?!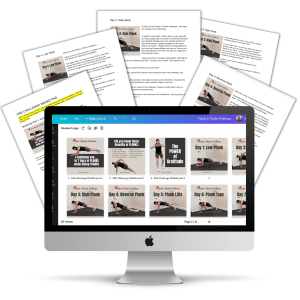 Click to grab your copy of the White Label 7 Day Planks & Thanks Challenge here >
Use code 'planksgiving-free' on ordering, and you'll get the challenge absolutely FREE!!  No credit card and no purchase required.  
---
Oooo … but that's not all …
🌟 EARLY ACCESS to our BLACK FRIDAY SALE is on NOW!
We're bringing the Black Friday Sale early, exclusively for our amazing White Label Workouts community!
Dive into discounts on all white label workout programs, done-for-you fitness challenges, and even the FULL Fitness Business Blueprint. It's the perfect opportunity to level up your fitness business!
Here's the scoop:
Sale Starts: NOW
Early Access Code: [Email me for your secret code!]
Don't miss out on this chance to supercharge your fitness offerings and elevate your business. Get in touch for your early access code, and let's get your online fitness business all set up and ROCKIN' in time for the massive BOOM that comes every year in just a handful of weeks!  
NOW is the time to get set up & ready for it. And I'm here to help … every step of the way! Reach out anytime – and let's collaborate all the way to the huge success you deserve!
Here's to crushing goals and enjoying the journey together!
Xoxo ~ Ro ~ Your Online Fitness Specialist
Founder & CEO, WhiteLabelWorkouts.com