Welcome to the final workout in our 4 week LIFTing series. This has been a really fun series of Triple Set burnouts – all focusing on lifting through specific muscle group splits. Today we're finishing up with the series with my favorite muscle grouping – shoulders & core! Whoop whoop!
In case you missed them, here's a recap of the first 3 workouts:
Week 1 – Leg Day >
Week 2 – Chest & Back >
Week 3 – Biceps & Triceps >
Let's get into week 4 – Shoulders & core!
Oooooo do YOU love shoulders & core as much as I do?? Shoulders & core go really well together .. and it's so important to work on both of these. For looks, yes … but also for strength, posture, mobility and more. They are your center – and so important to train – for functional strength, and just to make your daily activities safer & more efficient.
There are 2 triple sets in this workout. Watch the video to see it in action …
If you've been getting these emails for a while now (I send them out consistently every single Sunday!) you know that these workouts are designed for YOU. Use them in your business, however is best for you – to help you build your business.
Edit them to make them your own. Drop in your logo, change any styling to match your brand then share away.
Grab your editable links: (you'll be taken to CANVA to edit…)
Click to edit & download your HORIZONTAL workout video >
Click to edit & download your VERTICAL workout video >
As we talked about in last week's email, the last screen in this workout asks the viewer to take action – and ask about your LIFT program. This is here to help all of you who have purchased the LIFT white label workout program. I provide you with all the marketing materials & lead magnets, in addition to all the client programming workout videos, to help walk you through the full sale of your programs.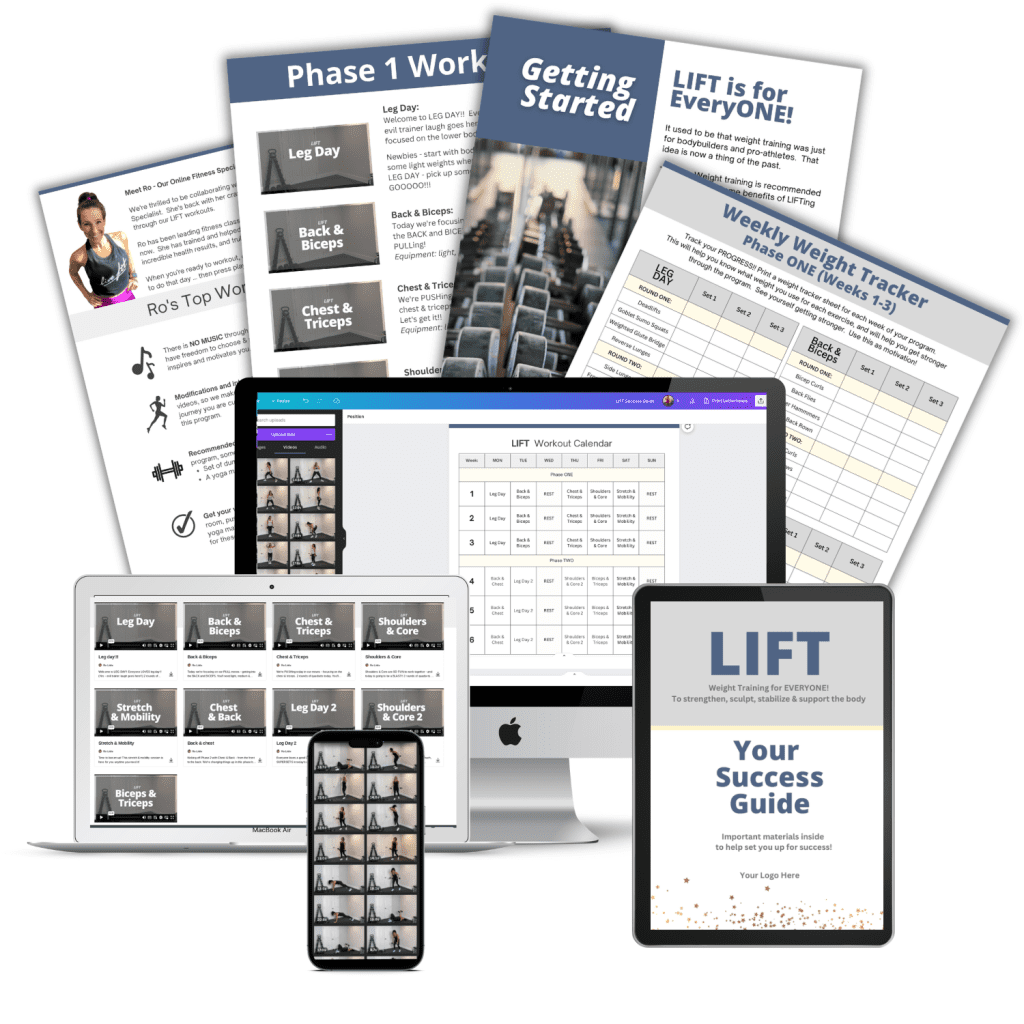 If you haven't yet, you can grab your copy of the LIFT white label program here. Note to my Fitness Business Blueprint members – this program has automatically already been loaded into your account. Log in here >
Already have your own programs to sell? No problem. You're welcome to edit that last screen and put in whatever 'next step' you'd like your viewer to take. You have full freedom with these videos to totally make them your own and do what is best for your business with them.
Why do I create these videos, every single week, and give them away for free? .
Yes – it's because I love doing it for you 🙂 But also I do it in the hopes that when you decide you DO need some extra fitness content, that you'll consider my white label programs. I have a full suite of programs, challenges, and our incredibly valuable Fitness Business Blueprint. Check them out anytime at WhiteLabelWorkouts.com
Please know that I'm always just a message away. Or even a zoom call. I LOVE to chat with you – strategize – brainstorm – or anything you need. I love being your biggest & loudest cheerleader – so please always feel free to reach out.
Here's the thing – I really do believe we ARE a team working together. Yes – It's me in the videos coaching your crew – and I always say that you just tell them that I'm the Online Fitness Specialist on YOUR team. Some of you I chat with a lot and I DO feel a part of your team – some I don't really hear from. But know this – I am ALWAYS here for you. If there's ever anything I can do to help with your crew, or with your business – please reach out. My door is always open for you. We ARE a team. We ARE in this together. I AM here for YOU.
Now – go grab your workout for this week – make your edits – and ROCK IT out 🙂
Have the bestest week ever!!
Xo ~ Ro ~ Your Online Fitness Specialist