It's WOWday!! YEAY 🙂 Let's kick off our week with excitement, and JOY after (hopefully) having some rest over the weekend. What if – this just may be the BIGGEST and BEST week ever in your business?? It's possible! Let's make it happen, together 🙂
It's American THANKSGIVING week – so this week's WOW is called PLANKSGIVING!  (See what I did there .. turned thanksgiving into planksgiving?  Haahaa I'm so punny! )  Let's take this week and see how much we can say THANK YOU.  Let's look for ways to live in gratitude this week – especially while we PLANK!
HOW TO Use the WOWS (white label workouts of the week)
You are welcome to use the WOWs each week however you'd like in your business.  Post on social, share with clients, send email newsletters.  You have full freedom to add your own logo & branding. And use however you'd like.  These WOWS are my way of saying thank YOU for being part of my crew!  Enjoy them and use them each week.  They are made for you with tons of love & gratitude. 
This Week's PLANKSGIVING WOW ..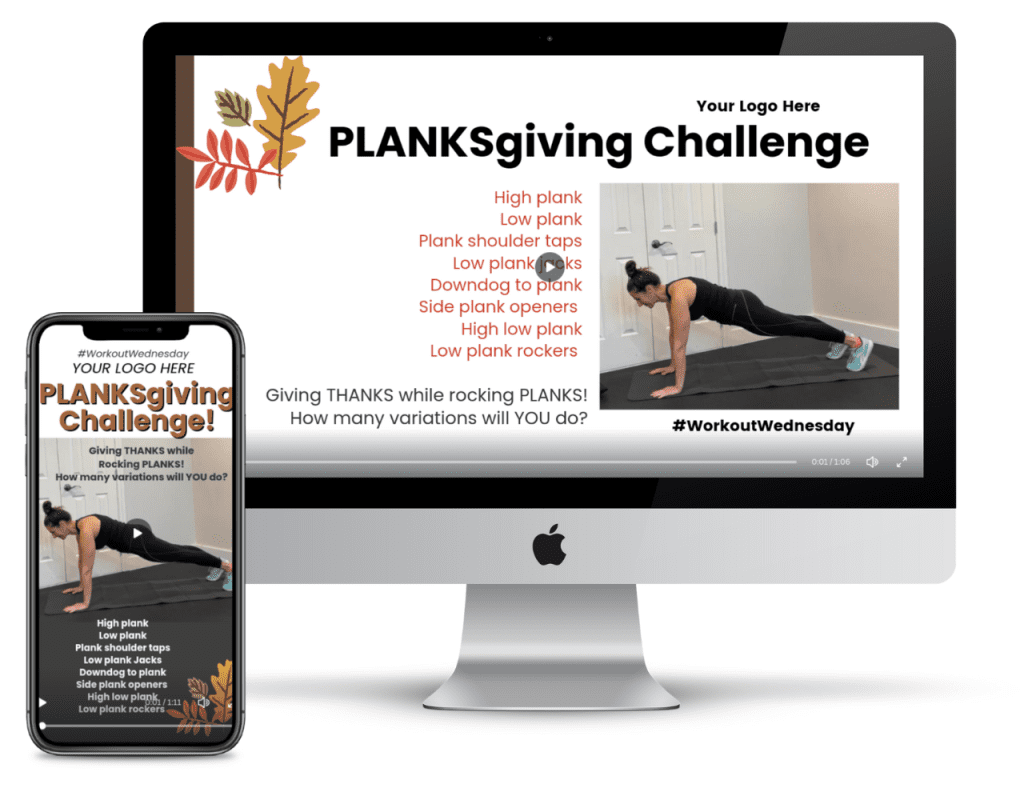 For this workout … challenge your crew to see HOW MANY of these plank variations they can do.   30 seconds each.  Level 1 = 15 second break between.  Level 2 = 5 second break between.  Level 3 = NO BREAKS!  How far can your participants get in this PLANKSGIVING challenge?  
Here are the 8 moves – watch the demo videos to see HOW TO …
High plank
Low plank
Plank shoulder taps
Low plank jacks
Downdog to plank
Side plank openers
High low plank
Low plank rockers
Planks are MIND GAMES!! Yes – they're hard – because they really fire up every muscle in the body.  INCLUDING THE MIND!  So for this week – since it's Thanksgiving & Planksgiving – while holding our planks let's think of all the things we can be thankful for.  Take the time, while in your plank, to dig deep.  Live I'm gratitude & give thanks 😊 
Here are your videos to go along with this workout … 
Click here to EDIT & DOWNLOAD the VERTICAL video in Canva >
Click here to EDIT & DOWNLOAD the HORIZONTAL video in Canva >
Let me know how it goes with this week's WOW.  I really do love hearing back and chatting with you.  
---
And now onto Black FriYAY …
This is the final week with our TWO Black Friday Promos …
Get 2 FREE bonuses with all purchases:
Simply add the freebie products to your cart. Use coupon code blackfriday22 .. that will change them to FREE!!
The 2 freebies are: The Epic exercise library 2,0 & the 12 days of Fitmas challenge.
Black Friday 70% off sale:
If you've been wanting to stock up on my White Label Workout programs, NOW is the time. 14 FULL fitness programs are included – each program is valued at $197-497. 14 of them are included in this promo.
The TOTAL value of this complete workout library package is over $3000! Save $2000 NOW and purchase the full package for only $999! The price IS going up after Black Friday!
Questions? Comments? Looking for some extra support or just want to chat? My door is always open for you – reach out anytime!
Ro Little ~ The Online Fitness Specialist