Happy WOW day Coachies! Monday is here!  Our FAVE day of the week!
To my American friends – I hope you had a wonderful Thanksgiving. I hope you were surrounded by friends, family, and loved ones … ate lots of yummies … and took a few moments to just feel the gratitude for all good things 🙂
And now it's Monday!  Time to set our intentions for the week … and get to work. 
NOW is the time … as we're finished with Thanksgiving and turning our attention to the Holidays.  YES distractions are everywhere right now .. but January is just around the corner.  As Fit Coaches, we all know what that means.
Now is the time to be getting ready for it. The big BOOM in our business is coming. If there is anything I can do to help & support you in getting ready for it, please reach out. I'm here in service – for you.
Okie – so let's get to the WOW for this week…
As always – the WOW is my gift to you, coach friends.  Feel free to edit & brand this workout as your own.  Share away and use however you'd like in your business.  Post on social, share with clients, or anything else you come up with.  Have fun with it – as I have so much fun each week creating them for you 🙂
The 7 Minute Workout
Since we know everyone is so busy right now, this week's workout is a 7 Minute Workout. Yup – 7 minutes! It's such a fun one …
7 exercises … 45 seconds each, with 15 seconds break between … Repeat 1-3 times.
The exercises are:
Inchworm
Side lunge raise
Lunge, curl & twist
Renegade rows
Rotating lunges
High knee skips
Staggered push ups.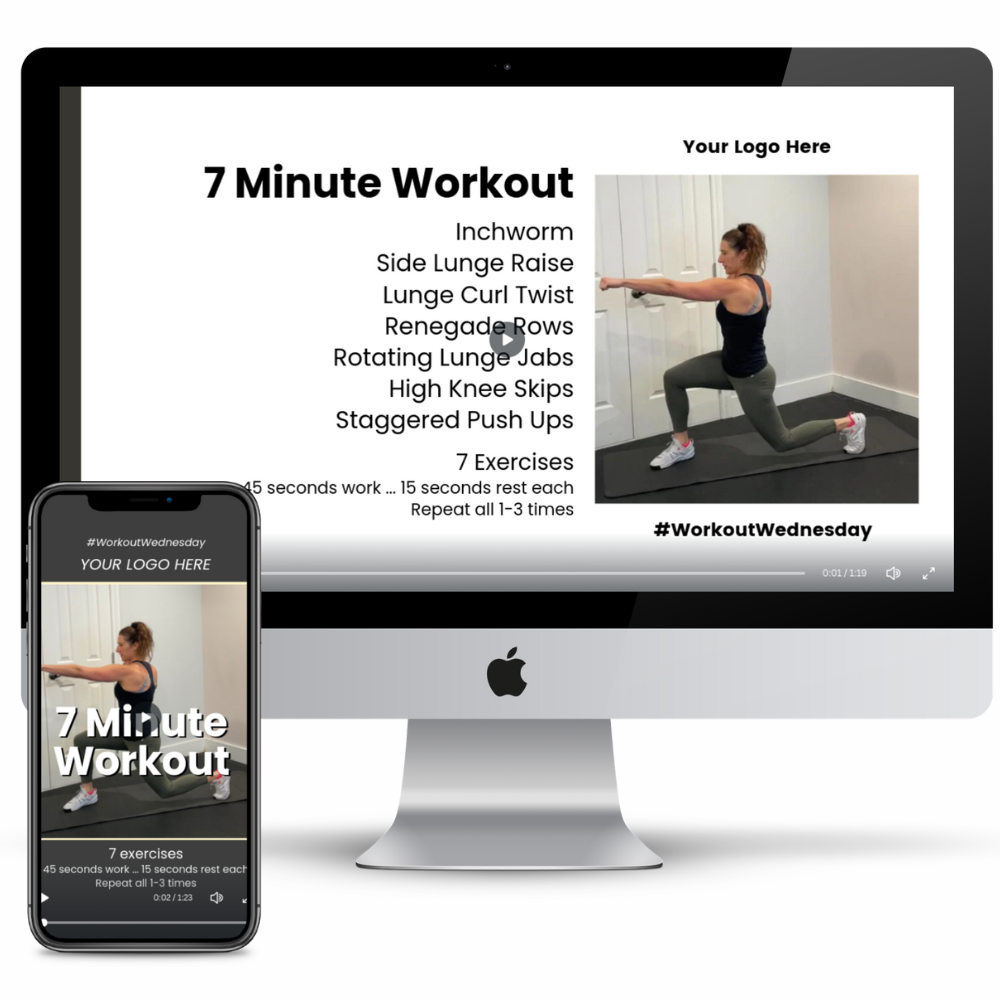 Click to edit & download the VERTICAL video in Canva >
Click to edit & download the HORIZONTAL video in Canva >
Drop in your logo .. edit away as you'd like … and share away. Have fun!!
Xoxo ~ Ro ~ The Online Fitness Specialist
Ps … Today is the FINAL DAY to grab the Complete Library of White Label Workouts at the sale price.  This value bundle pack IS going up in price, by $1000, tomorrow.  If you've been thinking about it, this is your last chance.  Price goes up in 10 hours.  Click here for your last chance to save on the Complete White Label Workout Library >

Pps … Stay tuned later this week for an announcement coming on the White Label Workout plans for 2023!  I've got the calendar all laid out .. and it's filled with AWESOME to help YOU service your clients adding massive value!  I'll be sharing the details in our FB community.  Are you a member yet?  Join the White Label Workouts FB Community here >