This week's White Label Workout of the Week is coming in hot … and even hotter is an early release of our 2 BLACK FRIDAY promo deals!
Happy WOWday coachies!!
I hope your weekend was truly wonderful .. that you took time to rest & rejuvenate .. and you're ready to CRUSH IT this week!!
Oooo what an AWESOME week we had last week .. thanks to all who got started with the Healthy Habit JOURNEY program! It's truly a game changer, hey??!! Thanks to all for your messages .. I really hope your tribes are loving it as much as I loved developing that program for you!!
If you haven't yet picked up your copy, I've extended the launch sale of $50 off for 1 more day! Today is the last day to take advantage of the sale. Grab your White Label Healthy Habit Workout & Wellness program here >
That brings me to today's WOW …
YOUR White Label Workout of the week
This WOW is taken from the Healthy Habit program. I include a 3 pre-launch marketing plan (to help you sell the program) … and this is one of those posts. Feel free to adjust the wording to suit whatever you are currently promoting in your business, if you do not have the Healthy Habit Journey program. Check it out …
Edit, add your logo, and use these White Label Workout Videos in your business (yes – they're FREE for you to use!)
Here's a SAMPLE POST you're welcome to share WITH these videos. Use as is OR edit away to make it your own …
I hinted the other day about my brand new online fitness & wellness program that's launching soon – called The JOURNEY – and I wanted to share a little more with you today.

5 daily habits. That's the focus through the program. 5 simple daily tasks that lead to big change. Daily exercise is habit 1. So yes – workouts are a big component of the JOURNEY.

All the workouts in The JOURNEY are focused on Functional Training. This means training for daily life – using the functional movements we all use through our days – to help make our daily activities easier, safer & more efficient.

It's not about working towards perfect deadlift form – but rather it's about learning to hinge properly so we can safely unload the dishwasher and laundry. It's not about needing perfect squat form, but rather training to get up and down safely, and lift heavy things, safely. We're training functional skills to make daily life easier and safer.

I'm sharing with you today a sample workout from the JOURNEY program – and this one is all about the PULL!

PULL movements are functional skills. We need to pull open doors, pull items towards us, and more.

Let's practice & train our PULL. Check out this video to see the workout, then give it a go! Let me know what you think .. .and if you'd like to learn more about the Healthy Habit JOURNEY workout & wellness program.
——-
Okie – now let's chat BLACK FRIDAY PROMOS!
If you're anything like me – you're already hunting down the Black Friday deals. So I wanted to get this out to you already. I have TWO promos to share …
Black Friday FREE BONUS promo:
EVERY ORDER qualifies for 2 FREE BONUSES!
The details: EVERY order placed at WhiteLabelWorkouts.com … between Nov 14-28 … for ANY product of ANY value, qualifies for 2 free bonuses. They are: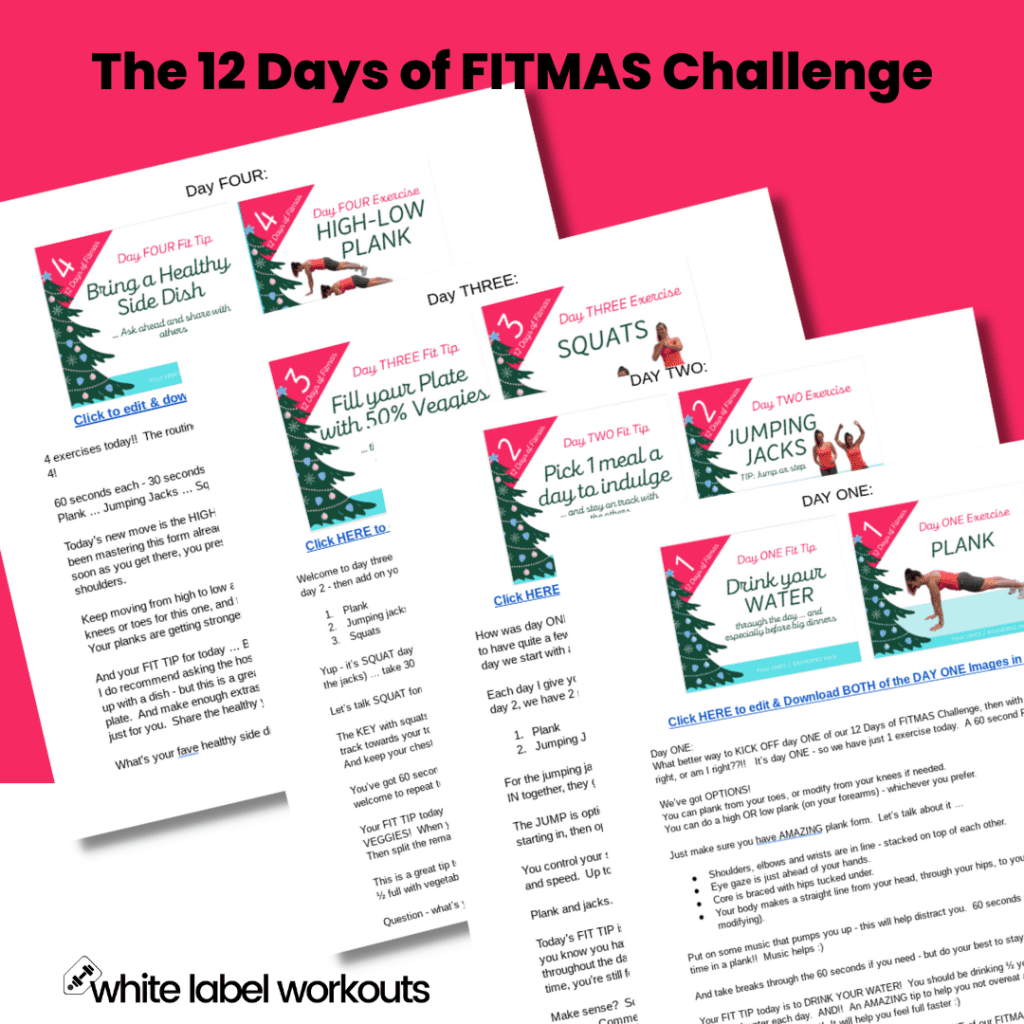 HOW TO CLAIM YOUR FREE BONUSES:
Simply ADD these products to your cart … use COUPON CODE blackfriday22 … and they will be added in FREE!
---
Black Friday Promo #2 = Save 70% on the FULL White Label Workout Library!
This is the BIG ONE – if you've been thinking about getting started with the FULL library of white label programs – NOW is the time!! I have FROZEN the price of the library, but added EVEN MORE value to it!!
2 new programs (valued at $700) have just been added to the Complete White Label Workout PACKAGE.
BEST PART — I've FROZEN the PRICE to give YOU the absolute BEST VALUE for this Black Friday sale! That's right … I added MORE VALUE to the full package, but am NOT raising the price until AFTER Black Friday! Act quick .. because the price IS going up!
The TOTAL value of this complete workout library package is over $3000!
Save $2000 NOW and purchase the full package for only $999! The price IS going up after Black Friday!