Happy Canada Day to my fellow Canadians … and Happy Independence Day to my American friends! Lots of FUN is happening this weekend, so I'll keep things short & sweet today. Well I try to – lol there's so much awesome happening around WhiteLabelWorkouts.com these days …
As with every Sunday – I'm bringing you your White Label Workout of the week – along with some JULY content launch updates … AND the announcement so many of you have been waiting for – 10 more spots are becoming available on WEDNESDAY for the Total DFY Workout Website solution! Read on to learn more …
Let's start first with our White Label Workout of the Week ..
This is the 3rd (and final) installment in our BANDS series – as we have now fully launched the '4 Weeks with BANDS' white label program!
This week we're FEELING THE HEAT!!  (also appropriate to kick off the summer months!)
Watch the video to see the workout in action:
You're welcome to share this workout with your crew, and use it as a business building resource.  I designed this workout to help you lead to sales for the full  BANDS workout program … or … use it to promote whatever else you have going on.  There's a screen at the end of the video for you to add in whatever you're currently promoting.
As always – you're welcome to edit this video and make it your own. 
Drop in your logo,
change any fonts or styling,
and make it work with your brand
And – since it's me in the video – simply say that I'm the Online Fitness Specialist on your team.  
You can choose if you prefer the horizontal format or vertical.  Click the links below to be taken to CANVA (free account) to make your edits, download, and share as your own.
Click here for the HORIZONTAL video >
Click here for the VERTICAL video >
These weekly workouts are FREE RESOURCES for coaches, like you, to use to help build your business.  All I ask in return is that if you ever want to look at stocking up on other white label workout content, you'll consider checking out my suite of services.  
Sound fair?
And speaking of other services …
White Label Workout Content Releases & Updates for July 1:
The first of the month is always exciting as there's tons of new content launching!
BANDS is a complete white label online fitness program has fully launched and is ready for you to add your branding, share with your crew and turn it into INCOME! The content is all done for you! Includes:
2 week pre-launch marketing plan
A 21 day challenge to use a lead magnet
4 weeks on FULL, follow along guided workouts (over 200 minutes of workout videos are included)
All your client support materials including a printable success guided with workout calendar, tracking sheets and more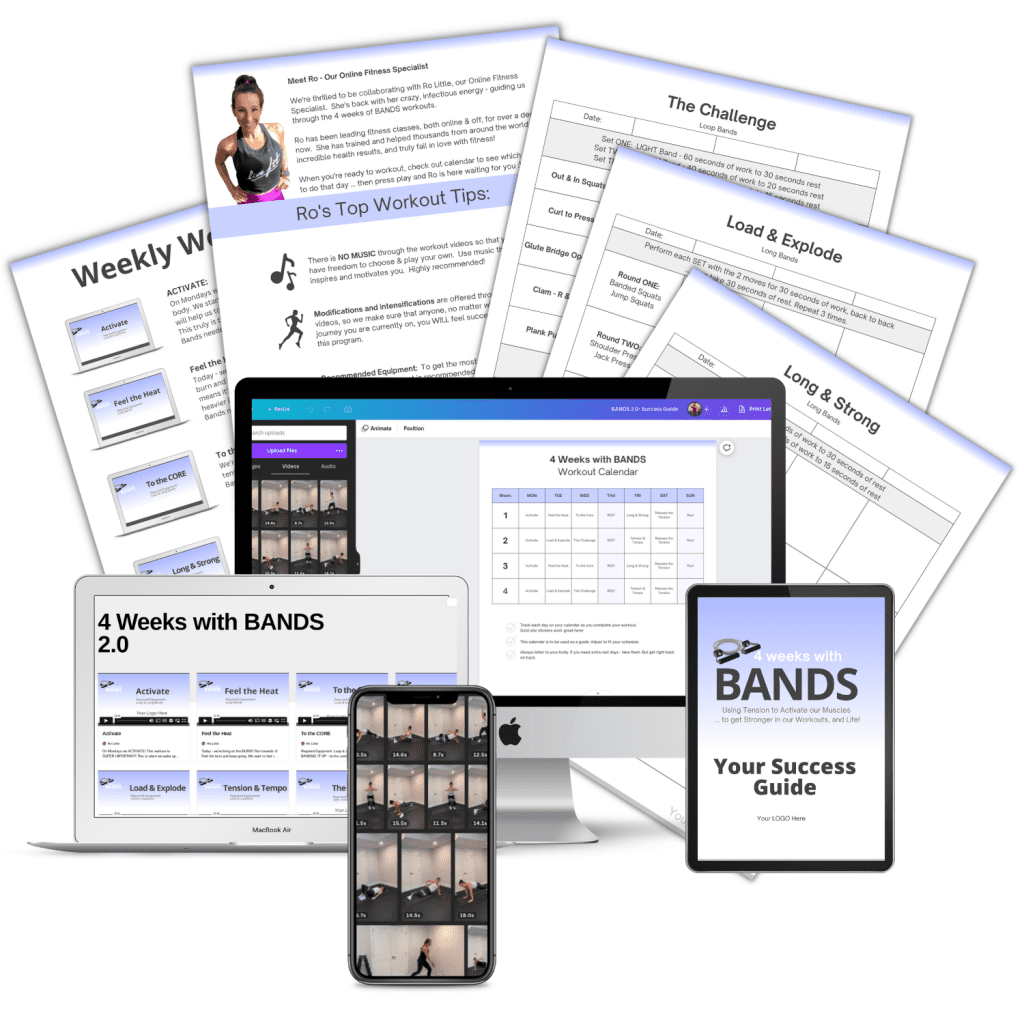 BANDS is a complete packaged online fitness program – all white label and super easy for you to brand as your own – easily turning it into income for your business
Learn more about the White Label BANDS workout program here >
Arms. Booty. Core. ABC workouts are always so popular – so I created a whole #fitspiration pack about the ABC party!! Pack 6 is ready for our Fitspiration crew!
12 new exercise explainers (in image, horizontal and vertical video formats)
8 new workout summary videos (in horizontal and vertical video formats)
Downloadables & printables – tracking sheets & 4 week workout calendar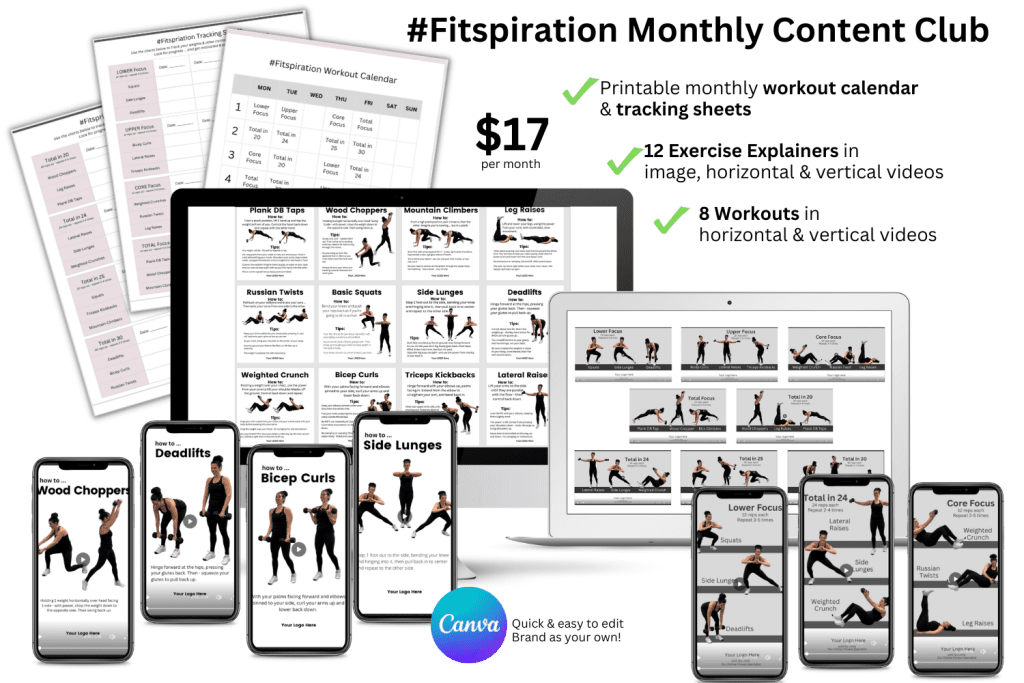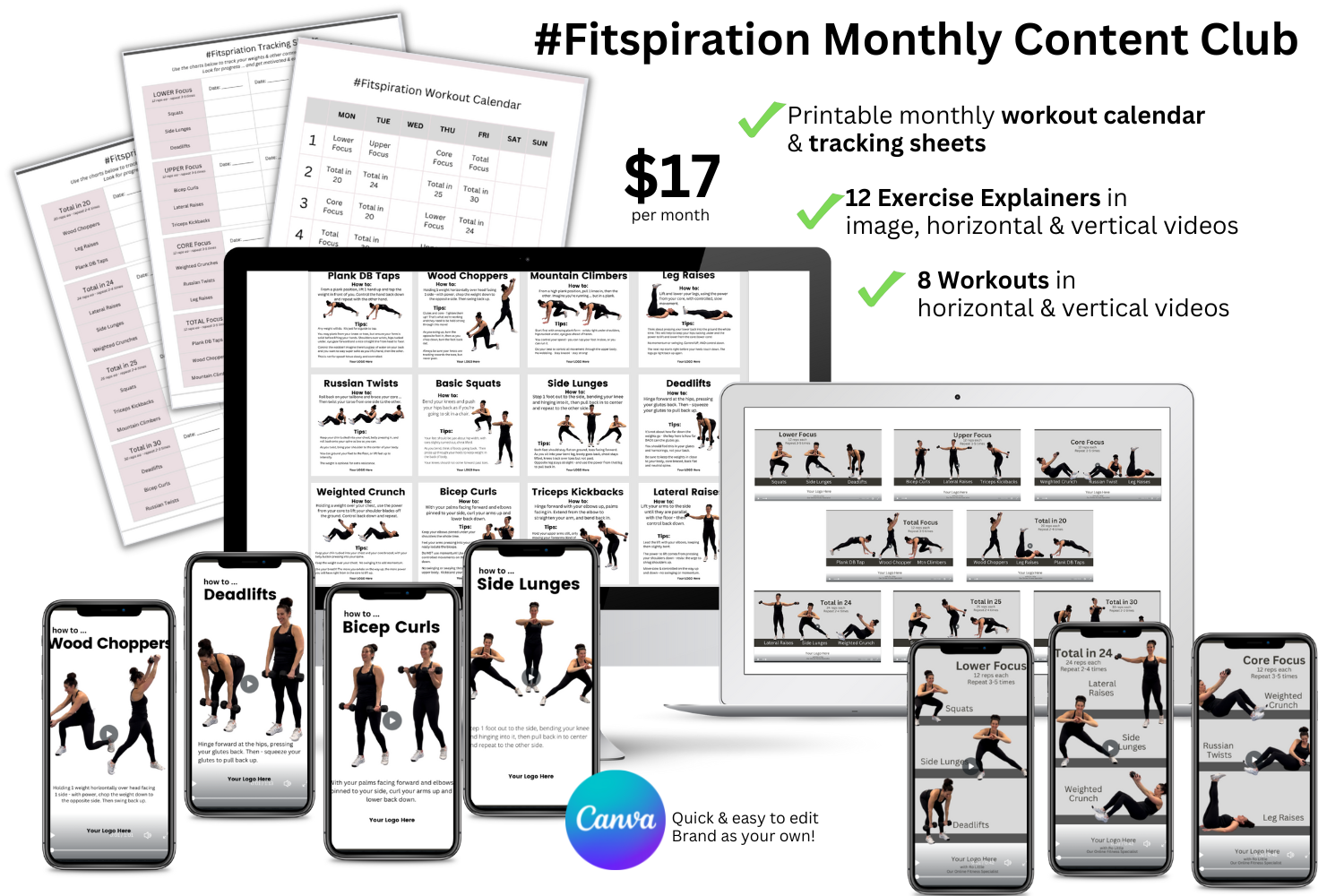 Learn more about the monthly #Fitspiration Monthly Content Club here >
The TOTAL DFY (Done For You) WEBSITE SOLUTION
10 spots OPENING on WEDNESDAY!
This is the mac daddy of them all!!  All your Content PLUS a fully branded-to-you website – All DONE FOR YOU!
12 complete workout programs (with 115 workout videos!  It's over 3000 minutes of guided full follow along workouts!)  … all loaded into a fully functioning, professionally designed website with a shopping cart and members area already built for you.  All of it branded to YOU and your business.  Simply turn the key and your fitness business is online, ready to start generating CASH FLOW for you!
I had to close registration last week for this service as the 10 spots filled up SO FAST!! To my first 10 – It was SO FUN working with you and building your sites for you!! I think they all turned out AHHH MAZING!
MORE SPOTS ARE OPENING on WEDNESDAY July 5 for me to build 10 more sites.  Only 10 – then closing it down until August. If you've been wanting a Simple & FAST way to get your fitness business online – then stay tuned for my email announcement … and act fast as they will go quick!!  I'm already getting messages of people wanting IN.   I'll be emailing again on Wednesday as soon as ordering opens.
Learn more about the Total DFY Workout Website Solution here >
That's about it from my end … I'm currently sending this email out from my trailer as we're vacationing at the Christina Lake with the fam for the long weekend. It's so rare that all 3 of my kids come with us to the Lake (they're 15, 18 & 20 – so they have busy lives of their own). I'm soaking up every moment having the 3 here with me this weekend.
I hope that you are enjoying your long weekend – that summer is already AWESOME in your world – and that life is filled with happiness, love, success & prosperity.
Keep sweating & shining … and SLAY it ONLINE!
Much love!
Ro ~ Your Online Fitness Specialist
WhiteLabelWorkouts.com