Ro from whitelabelworkouts.com here – coming at you with this week's white label workout – called Banded Booty Activation!  
But first – Following up to the excitement from this past week – WOOOAHHH!!!  What a week!!
Thank you to all who were as JAZZED as I am about the Total DFY Workout Website Solution and have registered to have me build their online fitness business website for them.  I should have all of your sites complete by the end of the coming week, as long as you have submitted your info form.  A few haven't yet gotten that info to me – so please be sure to get that in so I can pull together the awesome – branded all to you.
I'm SOOOO excited for you to experience the awesome that's coming your way – and trust that I'm going to be checking in … being your loudest cheerleader & supporter as your fitness business absolutely explodes!! I hope you're buckled up – as this is going to be quite the ride!!
Now, to all you fence-sitters out there, it's decision time!
I'm taking the registration down tonight, folks! The initial 10 spots are already filled, but I've decided to open a few last-minute entries for those of you I've been chatting with. This is your final chance to reserve your spot before the order form disappears at midnight. Don't miss out!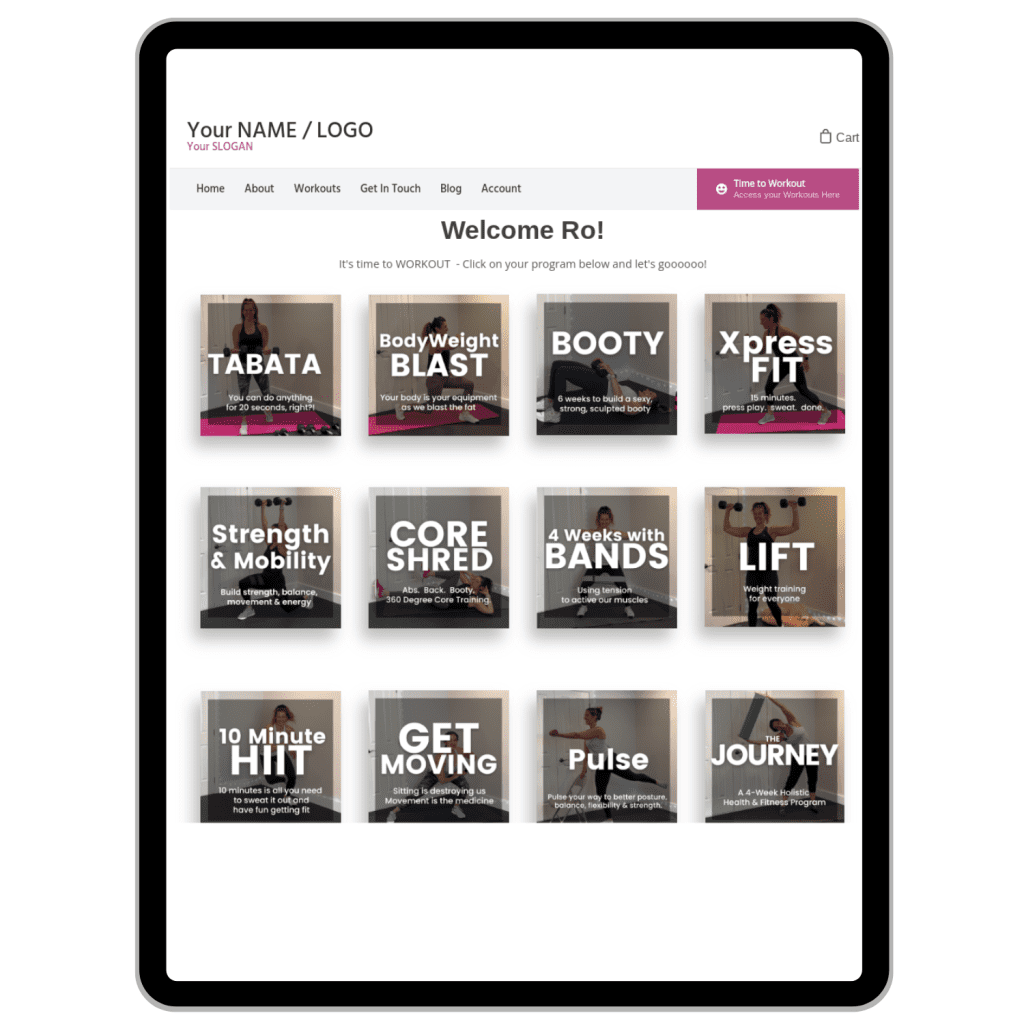 I know what you're thinking—will I be making this offer again? Well, honestly, I probably will.
However, here's the catch …
I'm considering adding this service to my Fitness Business Blueprint, which currently sells for $1999. So, brace yourselves, because the price of this DFY website solution will at least double next time.
Yes, even more than $1999!
Grab this incredible deal now, lock in the current price of $999 (one-time fee, plus hosting), and secure your future success with your online fitness business website – done for you! It's a no-brainer!
Curious to learn more? Just click this link and prepare to be amazed:
https://online-fit.club/total-dfy-solution
If you have any questions or need further information, don't hesitate to reach out. I'm here all weekend, ready to chat & answer your questions, because time is of the essence, my friends.
Alright, enough about the DFY workout website solution—let's dive into the fun stuff…
The workout of the week …
This week we're continuing our bands series as we get ready for the launch of our newest online fitness program at WhiteLabelWorkouts.com – this revolutionary program is called  '4 weeks with bands'.
Our workout this week is called Banded Booty Activation!  The BEST thing about working with bands is the awesome activation you get.  It's a totally different way to target the muscles – using tension both in the eccentric and concentric movements.  I just love banded workouts – they're safe, effective, and they are always so popular with clients.
Watch the video to see the Banded Booty Activation workout in action.. 
How to use these white label workouts each week …
It's so simple to use these workouts each week. The files come as editable CANVA files (free account needed). Simply add your logo .. edit any fonts, colors or styling to match your brand .. then share away.
Click here to edit & download the workout in vertical mode
Click here to edit & download the workout in horizontal mode 
Love getting these weekly workouts but not sure how best to use them in your business?
Receiving these weekly workouts is fantastic, right? However, if you're unsure how to integrate them into your business, fret not! I've got some killer ideas for you:
Spice up your social media game: Post these workouts to boost your content strategy and attract new followers. Need help with a killer post and hashtags? ChatGPT is at your service!
Delight your clients: Incorporate these workouts into their personalized programs and watch them shine.
Create a free workout library on your website: Give your audience a taste of your fitness programs and build your online presence.
The secret sauce: Use them as lead magnets to grow your email list! Marketers know the real money lies in the list, and this method is gold. Imagine using these white label workouts as a weekly newsletter enticement on your website. It's a guaranteed list-building strategy that keeps your content flowing and your community engaged.
An example – check out how we're using it at Online-Fit.club.  See how we have the workout of the week signup form at the bottom?  People LOVE getting free workouts!!  Then each week simply write an email (hello ChatGPT!!) and drop in your branded-to-you weekly workout video.  
This is a great way to build your list, provide a constant flow of content, and engage with your crew.
And guess what? This is a part of the Template that we use for our workout websites. This sign up form is included with your Total DFY Workout Website Solution.
If you need a website for your online fitness business – this is YOUR solution.  But registration closes tonight – so act quick!  Here's the link again:
https://online-fit.club/total-dfy-solution
Oh, and I can't forget to ask — you magnificent fitness gurus out there — how are YOU using the White Label Workout of the week? I'd love to hear all about your creative endeavors and the exciting ways you're incorporating it into your business. Hit that reply button and share your success stories with me!
Wishing you an absolutely outstanding week filled with sweat, shine, and slaying the online fitness game!
xoxo ~ Ro ~ Your Online Fitness Specialist