Hey there, fellow coaches!
Our Functional Training series continues with this week's workout:  Cardio Core EMOM!  This is a Bodyweight session that anyone, anywhere can blast out.
—————–
In today's newsletter:
Why I LOVE Bodyweight exercises
The Workout of the Week : CardioCore EMOM
How to get extra #Fitspiration each month
—————–
Missed the first 2 week's of the Functional Training series?
Catch up here:
————-
It's time to geek out about one of my favorite topics in functional fitness – bodyweight exercises. 
As the Online Fitness Specialist, I'm all about infusing excitement into workouts, and bodyweight exercises are a crucial tool in my arsenal.
Today, I want to share with you why I absolutely love using bodyweight exercises in my programming for functional training .. and keep reading to see how I put this into action in this week's White Label Workout of the Week …
Why Bodyweight Exercises?
Accessibility for All: One of the greatest aspects of bodyweight exercises is that they're accessible to everyone. Whether your clients are beginners or seasoned fitness enthusiasts, bodyweight exercises can be tailored to their individual fitness levels. This inclusivity is essential to creating an engaging and welcoming fitness environment.
Functional Fitness: Functional training is all about preparing our bodies for the activities we perform daily. What's more functional than mastering movements your body was born to do? Bodyweight exercises mimic real-life activities, such as squats (sitting down and standing up) and push-ups (pushing a heavy object away), which makes them ideal for functional training.
No Equipment Necessary: As much as we love our fitness gadgets and gizmos, sometimes simplicity is key. Bodyweight exercises require minimal to no equipment, which means your clients can work out almost anywhere, from the comfort of their home to a local park. This convenience encourages them to stay consistent with their workouts.
Endless Variety: The realm of bodyweight exercises is vast and versatile. From classic moves like push-ups, squats, and planks to creative exercises like animal crawls and explosive plyometrics, you can keep your clients engaged by offering a wide range of movements to challenge their bodies in unique ways.
Enhanced Mobility and Balance: Bodyweight exercises often engage stabilizing muscles and improve mobility. These exercises can be particularly effective for improving balance and flexibility, which are essential components of functional fitness.
Progression Opportunities: As your clients become fitter, you can easily modify bodyweight exercises to increase the intensity and challenge. Whether it's through variations or adding resistance, bodyweight exercises offer a multitude of progression options.
Fun and Engaging: Last but certainly not least, bodyweight exercises are incredibly fun. There's something inherently enjoyable about mastering movements and watching your clients progress in their strength and agility.
The White Label Workout of the Week: Cardio Core EMOM
We're blasting out cardio, spiking the heart rate.  We're zoning in on building a powerful core.  And we're doing it EMOM style!  Every Minute on the Minute.  
This workout is such a fantastic example of how bodyweight exercises can be utilized for a heart-pounding, core-strengthening, and fun-filled fitness experience.
Check out the video to see the workout in action …
Challenge YOUR crew with this Cardio Core EMOM workout. 
You have full freedom to share this workout as your own.  Drop in your own logo & brand it to you … adjust any styling to match your brand … then share away! Be sure to edit the last screen of the video to insert whatever pitch you want to use for a next step.
Yes – It's me in the video.  Simply say that I'm on your team … That we collaborate and work together to build these workouts.  Collabs are so trendy right now – and for good reason.  Teamwork makes the dream work – and I'm honored to be on your 'team'.
Click the links below to grab your editable CANVA videos …
Click here to edit & download the workout in HORIZONTAL mode>
Click here to edit & download the workout in VERTICAL mode >
---
This week's workout is a sample from our newest #Fitspiration Monthly Content Pack – Pack 10 – which is all bodyweight workouts.
Get Monthly #FITSPIRATION!
Did you know – each month I release a new content pack that is packed with workout content:
12 unique exercise explainers (in image, horizontal & vertical formats)
8 workout videos using those 12 exercises
Downloadables / printables including instructions, workout calendar and tracking sheets
And all this is only $29 a month!  Learn more about the #Fitspiration Monthly Content Club  … and try out a free sample white label exercise explainer & workout .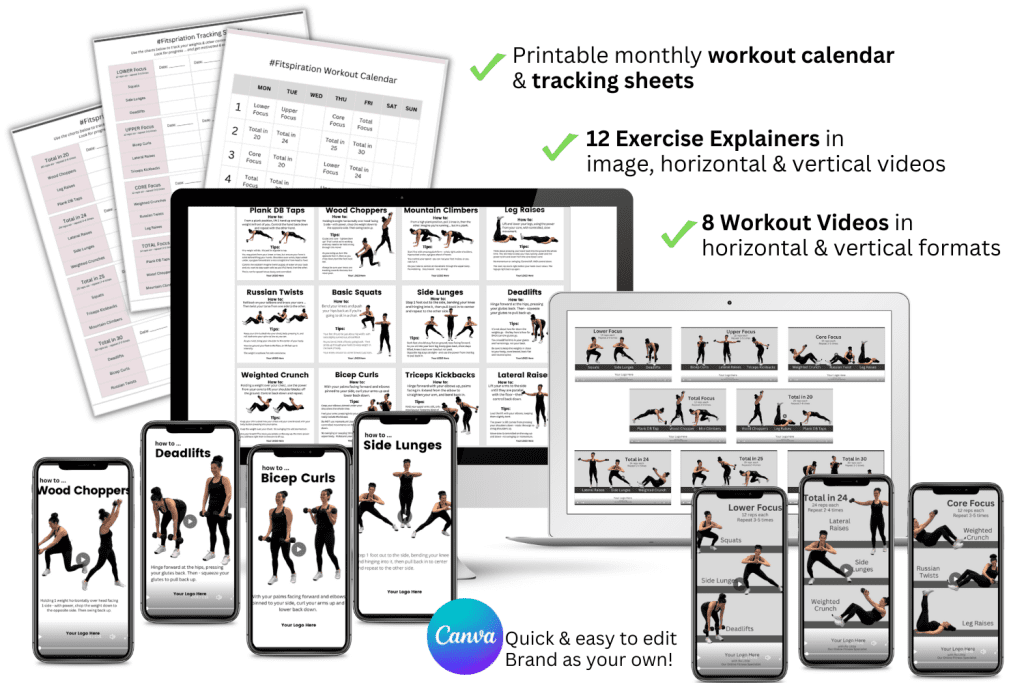 ---
To sum up for today … Bodyweight exercises are a staple in my coaching philosophy for functional training. They're accessible, versatile, and, most importantly, a lot of fun. As coaches, it's our duty to make fitness engaging and enjoyable for our clients, and bodyweight exercises are a fantastic way to do just that.
I hope you'll embrace the world of bodyweight exercises and use the Cardio Core EMOM with your crew. I hope this workout brings a smile to your clients' faces while they sweat it out.
Want more workouts AND exercise explainers?  Check out the #Fitspiration Monthly Content Club >
Let's keep the fitness journey exciting and effective, one bodyweight exercise at a time!
Stay fit, strong & awesome … and have fun coaching,
Xoxo ~ Ro ~ Your Online Fitness Specialist