I'm so excited to share some exciting news with you today … But before I get to the big reveal, let's dive into the incredible world of Functional Fitness and why it's an absolute game-changer for you and your clients …
—————–
In today's newsletter:
The Power & Importance of Functional Fitness
A Re-launch of our updated White Label Functional FIT workout program (Huge Launch SALE!)
The Workout of the Week focusing on the 7 functional movement skills (FREE!)
—————–
The Importance of Functional Fitness
Functional fitness has been making waves in the fitness industry for a while now, and for a good reason.
It's not just another passing trend – it's a proven method to help our clients lead healthier, more active lives. It's about training for the real world, preparing our bodies to handle the tasks and challenges we face daily.  
Functional fitness is about mastering moves we use in daily life – lifting toddlers, carrying groceries, climbing stairs .. and not just about doing the perfect bicep curl or exercises locked into weight machines.
Here are some compelling reasons why incorporating functional fitness into your training programs is an absolute must:
Real-Life Relevance: Functional fitness mimics the movements we use in everyday life, such as bending, lifting, squatting, and twisting. By focusing on these movements, you're helping your clients improve their ability to perform daily tasks with greater ease and reduced risk of injury.
Strengthens Core Stability: Functional exercises often engage the core, enhancing stability and reducing the risk of back pain or injury. A strong core is essential for good posture and overall body strength.
Enhanced Athletic Performance: Functional fitness isn't just for the average gym-goer. Athletes of all levels can benefit from this approach, as it helps improve balance, coordination, and overall performance in various sports and activities.
Prevents Imbalances: Functional fitness addresses muscle imbalances, which are common in traditional workouts. By focusing on movements that engage multiple muscle groups simultaneously, you help your clients maintain equilibrium and prevent injuries.
Greater Flexibility and Mobility: Many functional exercises require a wide range of motion, which helps enhance flexibility and joint mobility. Clients will feel more agile and less prone to stiffness.
Now, to the exciting part …
I'm thrilled to announce that I've just opened the vault and re-released an updated version of my White Label Functional FIT Program! This comprehensive program is designed to make it incredibly easy for you to bring functional fitness to your clients.
Introducing the NEW White Label Functional FIT Program …
I've done all the heavy lifting for you. The program is ready to go, with a wealth of workouts, training plans, and educational materials (in written, image & video formats) to help your clients embrace functional fitness fully.
52 weeks of content.  Yes – a FULL YEAR of workouts are included.  All done for you – with videos, downloadable PDFs, workout calendars, tracking sheets, and more!  All white label – ready for YOUR branding.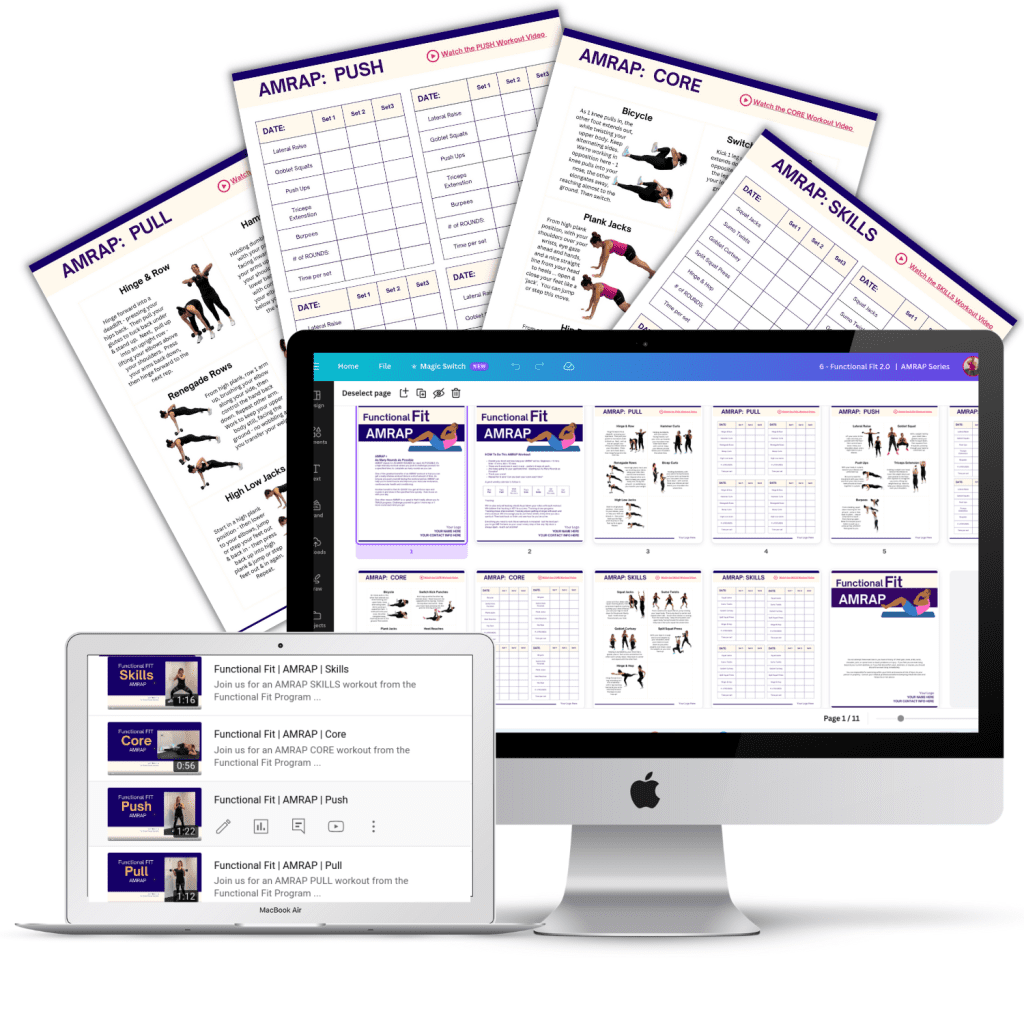 Rebrand and resell it as your own.
This means you can offer your clients a top-notch functional fitness program with YOUR branding, all while saving time and effort in program development. It's a win-win situation for both you and your clients!
Learn more about the White Label Functional FIT program here >  (and take advantage of our crazy launch pricing – that won't last long!!) 
Celebrating the Functional FIT LAUNCH with the White Label Workout of the WEEK …
As we launch our reinvigorated Functional FIT program, we're pulling out all the stops to celebrate! And what better way to do that than with our White Label Workout of the Week series!
This week, we're diving deep into the heart of functional fitness by focusing on the 7 fundamental functional movement skills.
These skills, including the hinge, lunge, squat, walk, rotate, push, and pull, are the building blocks of functional fitness. 
By mastering them, your clients can gain strength, mobility, and agility that will significantly improve their daily lives.
As we do each week, this week's workout is FREE for you to brand as your own and share away!   All you have to do is drop in your own logo, and you're ready to share it far and wide!
Check out the video to see this week's workout in action …
Brand this workout to you and share it in your business. Click the links below to grab your editable CANVA videos …
Click here to edit & download the workout in HORIZONTAL mode>
Click here to edit & download the workout in VERTICAL mode >
Remember to add your own logo, and feel free to change any fonts, colors or styling to match your brand. Bring your own awesomeness to it.
Yes – this workout is designed to help you introduce your crew to the Functional FIT program (helping YOU easily make sales!) … but you're welcome to use this workout however it fits best into your business.  Adjust the final screen to whatever next step you'd like your viewer to take 🙂  
Want to get started with our White Label Functional FIT program – and use this as a super easy way to add extra income into your coaching business?  Click here to learn more about the White Label Functional Fit Program … and be sure to take advantage of our limited time launch pricing.
Questions? Comments? My door is always open for you – reach out anytime – I LOVE to chat 🙂
Rock it with this week's workout … and join us in the Functional FIT party! Let's dive into the world of functional fitness together and elevate your training business like never before!
Here's to a fit and functional future,
Xoxo
Ro ~ Your Online Fitness Specialist
Founder & CEO, WhiteLabelWorkouts.com