Today is a DOUBLE WOW day!! YEAY!!! I am SO excited … not only do I have a SUPER FUN workout of the week to share with you, but I'm also launching a new White Label Workout Program .. TODAY!! You are the first to hear about it .. and I am just so super proud of this one!!
K – first off – here's your WOW as I promise each Monday .. your White Label Workout of the week:
This week is CRAZY 8's! One of my FAVE protocols!!
Alternate 2 moves … start with 8 reps each .. then go to 7, to 6, all the way down to 1 rep each.
The 2 moves are:
Reverse Lunges (1 rep = right lunge AND left lunge)
High Low Plank
I'm providing you both HORIZONTAL and VERTICAL videos. It really depends where you're loading them in. If you're using stories & reels, use vertical. If you're loading into youtube, use horizontal. I provide you both – use what works best for you …
Click HERE to edit & download the VERTICAL video in Canva >
Click HERE to edit & download the HORIZONTAL video in Canva >
HOW TO USE THE WOWs:
You are totally welcome to use the WOWs however you would like in your business. These white label workouts are my gift to you – and I LOVE creating them for you each week. Share them on your social media, send them to clients, post in your groups/apps. You can edit them, drop in your logo, change colors, fonts and any branding to match your business. The WOWs are totally FREE for you to use in your business.
Okie .. and now on to the SUPER EXCITING news … the LAUNCH of my newest online fitness program …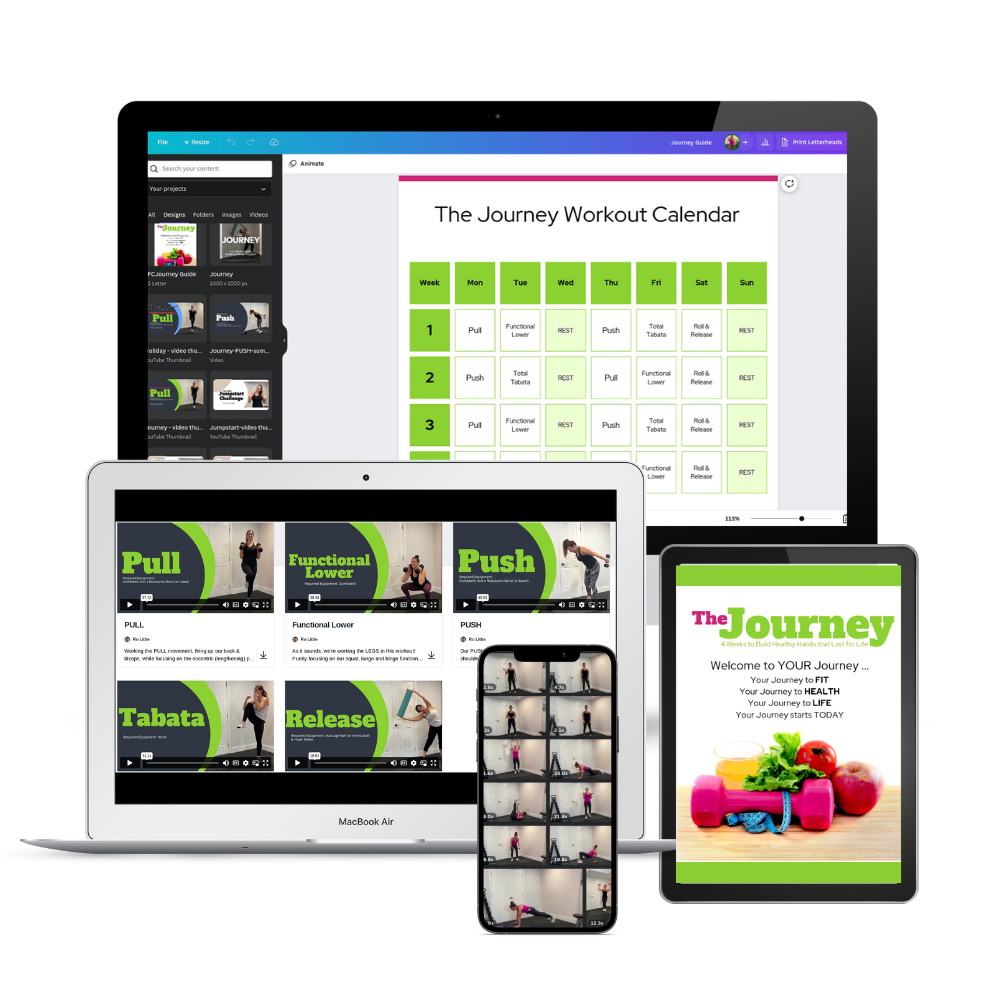 A DUAL purpose program – meaning it comes with TWO sets of branding. First – it comes with EVERGREEN branding, meaning it can be used ANYTIME of year … AND I also include a second set of branding with the program, as a FREE BONUS – that is branded as HEALTHY FOR THE HOLIDAYS.
This is the BEST value for coaches as you can get so much use out of this program!! Help your clients right now stay healthy through the holidays – OR – later into next year, use this as a JOURNEY to HEALTH program.
A few key notes about this new program:
This is a WHOLE HEALTH program. It is based on the HEALTHY HABIT Guide – so we really focus in on building our 5 daily habits ( not just workouts) …
Daily Exercise
Eating Whole Foods … Most of the Time
Drinking Water
Practicing Mindfulness & Gratitude
REST!
This program is designed in a way that anyone, no matter where they are at on their current journey to health, WILL feel super motivated, empowered and successful.
I also included another FREE bonus – that acts as a lead magnet to help you SELL this full program .. it's the 5 day JUMPSTART your JOURNEY challenge. This challenge introduces the 5 habits in a fun and interactive way. And – it's totally DONE FOR YOU! Super simple for you to set up and host this challenge, which will walk you right into selling the full program – earning you income!
Everything is done for you – simply drop in your logo and you're all set.
Your social marketing plan to introduce your crew to your new challenge & program – DONE for you!
Your challenge to gain trust, build engagement, and sell the full program – DONE for you!
All the workouts (over 150 minutes of workout video!) DONE for you!
All your client support materials – tracking sheets, notes & instructions on all habits, and more – DONE for you!
There's even a sample sales page included so you can see how a sample site is selling the program.
Everything is included!
The JOURNEY, and bonus holiday branding HEALTHY FOR THE HOLIDAYS is launching NOW and ready for you to start using with your crew!
LAUNCH WEEK pricing is in effect NOW and through this week only! Get the JOURNEY, along with EVERYTHING listed above for only $147!! You can easily earn that back with just 1 – 3 customers, depending what you will be charging. The price IS going up next week!
Learn more about The White Label Healthy Habit Workout & Wellness Program here >
Questions? Comments? Suggestions? I LOVE to chat. Reach out anytime! Hello@whitelabelworkouts.com
xoxo ~ Ro ~ The Online Fitness Specialist