Kicking April off with a PLANK CHALLENGE. This is your White Label Workout of the Week – a FREE RESOURCE for health & fitness coaches to brand as their own and share with their crew.
Challenge YOUR tribe with this EPIC 5 minute Plank Challenge!
Planks are so convenient to do – anyone, anywhere, anytime can get down and plank it out. It's a FULL BODY exercise that needs no equipment – and this challenge is only 5 minutes! No excuses 🙂
Here's how this challenge works …
There are 5 different plank variations. Perform each variation for 30 seconds, then repeat it for a total of 5 minutes.
The challenge is to move between each variation without taking breaks! See how long your crew can stay in it for!
Check out the video to see the plank moves in action …
Challenge your crew with this week's white label workout. Click the links below to edit & download the workout … you can choose horizontal or vertical – depending on which format works best for where you're posting.
Click here to edit & download the HORIZONTAL video >
Click here to edit & download the VERTICAL video >
… These links will take you to Canva (you need just a free account there to use these)
… Edit the videos as you see fit to best match your business. Drop in your logo & change any colors, fonts or styling to match your brand.
… Then download your work and share away!
NOTE! Yes – it's ME in the video and coaches sometimes question how to explain that. All you do is say that we COLLABORATED creating this challenge and that I'm the Online Fitness Specialist on your team. We work together. This method works great for all coaches who use my workouts – and build credibility for you in having a team.
Questions? Comments? Feedback? Requests for future workouts? I love hearing from you. Reach out anytime – hello@whitelabelworkouts.com
Want MORE workouts & challenges like this?
This 5 minute plank challenge is a snippet taken from our newest full White Label Workout Program – XpressFIT. We just launched XpressFit yesterday – it's the program of the month in our Online Fit Pro's Business Blueprint.
XpressFIT is an 8 week, 3 phase progressive workout program, with daily workouts that are just 15 minutes long. All the workouts for these 8 weeks are included with the program. It's 21 workouts with over 275 minutes of full length workout videos.
PLUS – an editable 26 page Customer Success Guide – packed with tips & tricks, as well as the calendar and all tracking sheets – used for impeccable client support.
AND – FREE BONUS! XpressFit comes with a sales page template, 2 weeks of Pre-Launch Marketing posts, images & videos, and our White Label 21 day PLANK challenge to use as a LEAD MAGNET to help bring clients to you, begging for the program!
It's all included in XpressFIT! Everything you need to introduce your crew to the program, create a buzz, the whole marketing plan to help you SELL the program, AND everything you need to deliver the program with all your customer support included! A business in a box.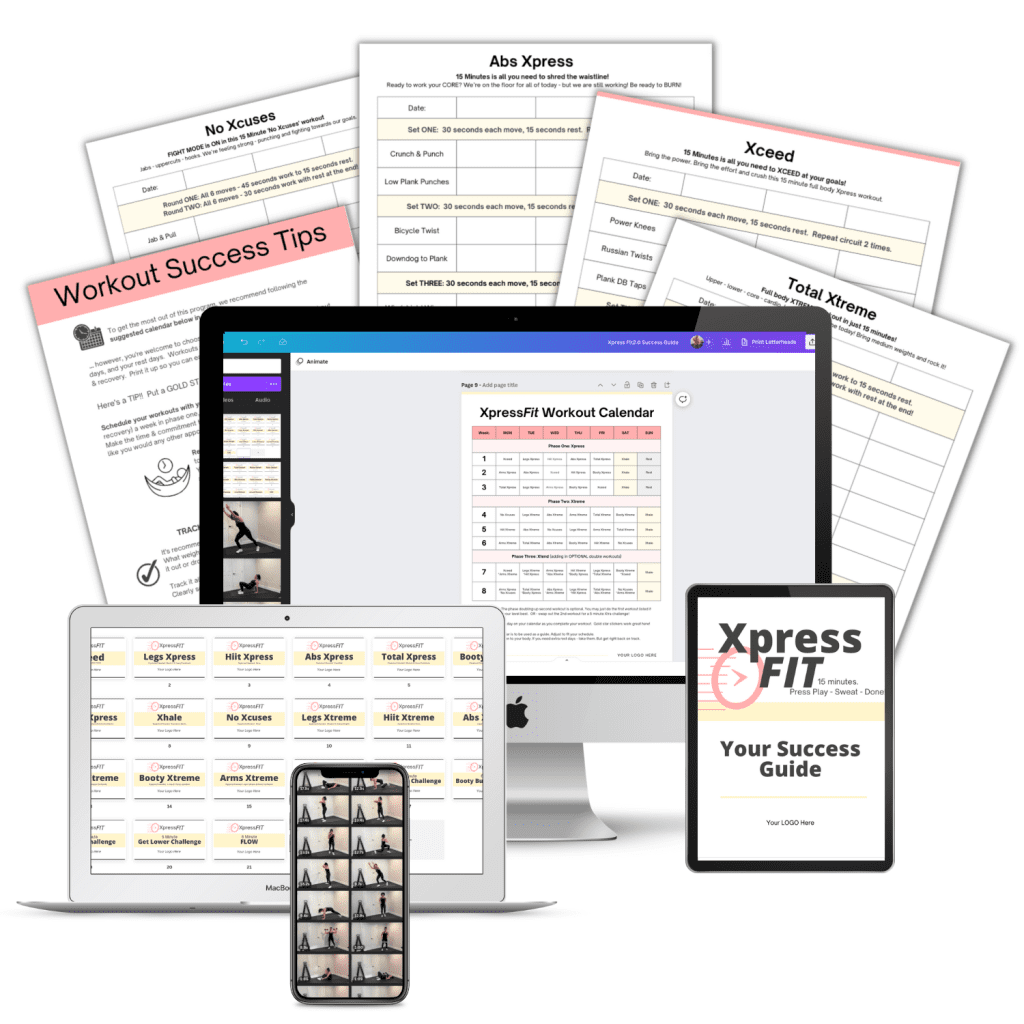 As always – I'm here to chat if you have any questions at all about how the programs work, how you can best use them in your business, or any other questions & comments you may have. I love chatting with you – so feel free to reach out anytime! Hello@whitelabelworkouts.com
April is here – the sun is shining – let's make this the most incredible month yet in your business. Let's do it, together.
In service to your profitable online presence,
Ro 🙂
PS: Have you heard that we moved our #Fitspiration Monthly Content Club to a new member area? Have YOU transferred your #Fitspiration membership there yet?
For all EXISTING #Fitspiration members, be sure to complete your transfer to the new site. You need to re-submit your payment info on the new site. You only need to do this ONCE. If you have not done so yet, click here to compete your transfer >
There's FRESH, new, awesome content waiting for you! Again, you only need to do this once, but it does need to be done to continue getting your monthly #fitspiration.
For all NEW members, looking for more info and to get started with the #Fitspiration Monthly Content Club … click here to learn more & grab FREE SAMPLE exercises and workouts
PPS: You're awesome and I appreciate you being here! Let's ROCK your online fitness business, together 🙂