Happy WOWday coachies! I hope that your holidays were truly a WOW! That you had a magical time with family, friends & loved ones .. and that you made lots of really wonderful memories 💗
So for this week's WOW (White Label Workout of the Week) … I thought it was the perfect time for a recovery workout. This week is yoga flow – or moving yoga.
I've prepared workout videos for you that you can easily drop in your own logo, and make any styling edits to match your branding. This is a free service that I love to do for you each week 😊. Those video links are below …
… but first ..
As we're approaching our favorite time of the year for our business (New Year's resolutions) .. Now is the perfect time to share with you …
The online fit pros business blueprint.  5 stages of done for you content.  
Attract – engage – convert – support – scale.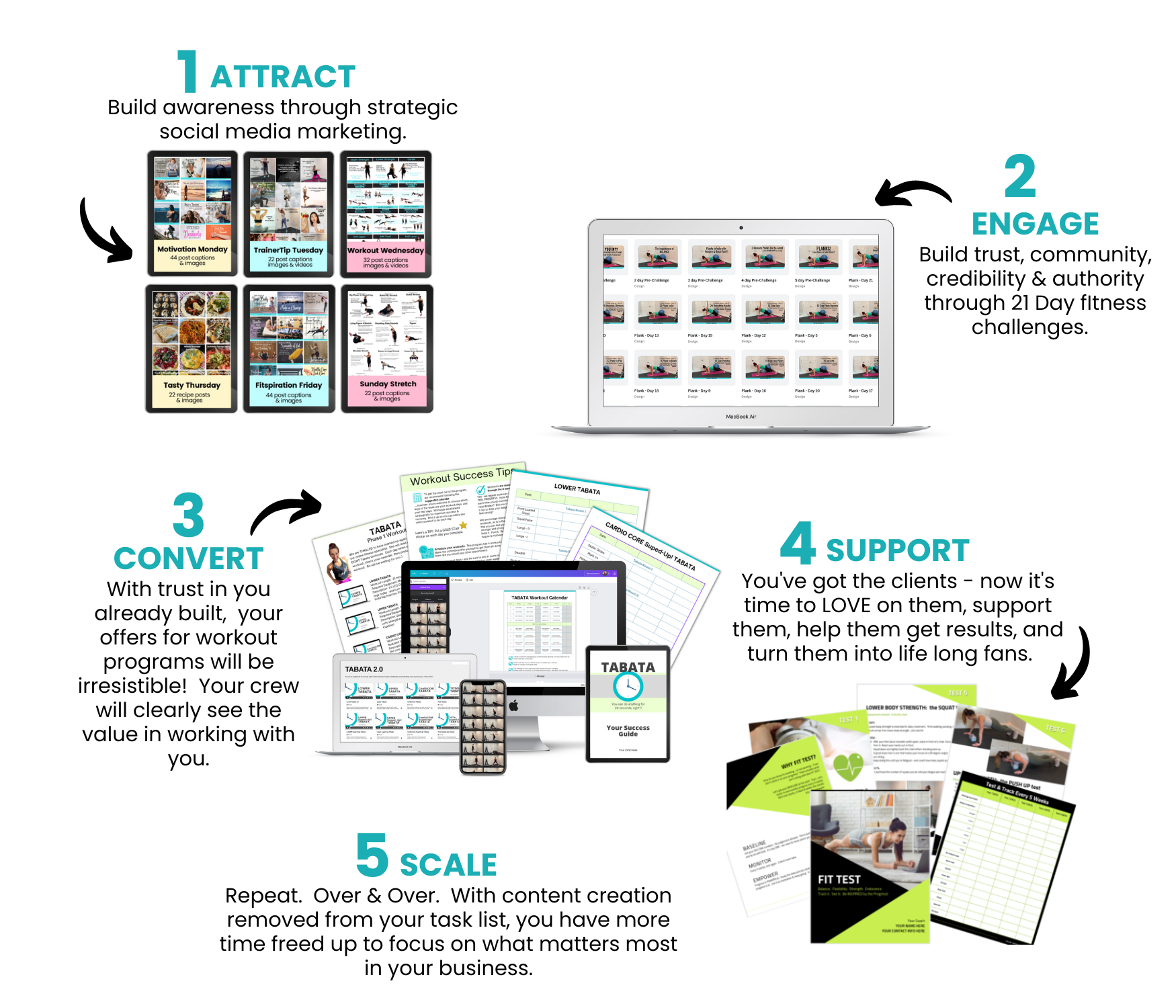 These 5 stages really are the online fit pros business. And when you master all 5 of these stages, it's truly your KEY to success.
Well – the online fit pros business blueprint is just that Key.
Are you looking for a complete business in the box, turn key, online fit Biz solution?  This is it my friends!  
This is 3 years in the making … and I'm so excited to be sharing it with you today!
This is ALL your 2023 (and beyond!) Content for ALL 5 stages of business – done for you.  
Exclusive FREE BONUS …
AND!!  As a SUPER SPECIAL Blueprint Launch gift … For all who purchase the FULL Blueprint before the end of the year, I'm offering a FREE 2023 KICK OFF ZOOM CALL exclusive to YOU and your crew.  I'll hop on a zoom call for about 20-30 mins, with just your peeps, and we'll do some 2023 goal setting, health planning, I'll take some Q&A's, and we'll have so much fun.  
This EXCLUSIVE offer is valued at $250 and is available for anyone who gets started with the FULL Blueprint (1 time payment, not monthly payments). 
Ok .. and now back to this week's WOW – The White Label Workout Of the Week ..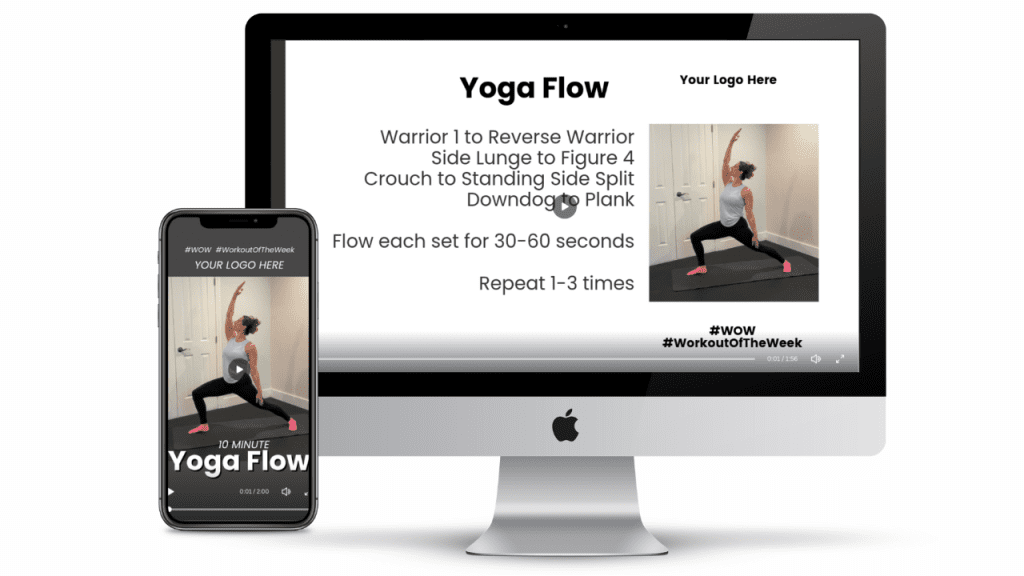 If you, and your audience & clients, are anything like me … we can use a holiday recovery workout. This is a really wonderful session to just loosen up, stretch out, feel the movement back in our bodies, and just do something good for ourselves – physically & mentally.
There are 4 sets of 2 yoga poses. The idea in this workout is we're in constant movement through the 2 moves in each set for 30-60 seconds. Flow between them for as long as we each need. Then move to the next.
The yoga flow moves are…
Right leg lead:
Warrior 1 ro Reverse Warrior
Side lunge to figure 4
Crouch to standing split
Downdog to plank
Then repeat all on Left.
Move through each set for 30-60 seconds each on the right leg, then repeat on the left. Repeat the entire workout 1-3 times – Whatever feels good in your body. This workout is about movement – stretching – recovering – and just helping your body (and your mind) get back to life after the crazy!
Here are the Canva links for these editable videos … 
Edit HORIZONTAL video in Canva >
Edit VERTICAL video in Canva >
Coachies – these workouts are my gift to you. You are welcome to use them for free every week in your business. Edit them as you'd like, drop in your logo, and share away. No strings attached. Just my way of saying thank you for being YOU . and bringing your AWESOME to this world 💗.
2023 is knocking on the door. Are you ready? Do you have your business goals & plans in place? If there's anything I can do to help, guide & support you on your journey, please reach out. I'm happy to strategize with you and help anyway I can. I LOVE cheering you on to massive success! Reach out anytime – my door is always open.
Again, I hope you had a wonderful holiday season with your family .. NOW is the time to recover & refocus. The business boom is coming. Let's get it!!!!
I'm sending massive love & excitement your way …
Ro ~ The Online Fitness Specialist