Yeay! It's WOW day! And the final countdown to Xmas is on … then the big NEW YEARS RESOLUTIONS day! Fit Coaches … NOW is the time!
For all who have been rocking out either the 24 days of FITmas OR the 12 days of FITmas challenge, I hope you've seen your engagement skyrocket and you've been having so much FUN with it 🙂
And we're almost there … Xmas is this weekend … then you know what's next. The FIT Coach's favorite time of year. Ahhhhh – New Year's Resolutions. I hope you're primed and ready to go with your content and plan. If not – feel free to reach out. I'm happy to chat & brainstorm with you … do a strategy planning session .. and get you all the tools and content you need to make 2023 your most EPIC year yet!
A couple things to share with you to help with that .. then we'll get into this week's White Label Workout (if you're not interested in extra content to explode your fit biz in 2023, you're welcome to just skip to the bottom of this email where your free workout is) …
TWO PROGRAM LAUNCHES:
THIS week we have a couple launches happening … TABATA 2.0 & 'The Online Fit Pro's Business Blueprint'. If you're looking for DONE FOR YOU content to add MASSIVE VALUE & explode your fit biz in 2023, you're in the right place, friends 🙂
Tabata 2.0 is an update to my very first white label program.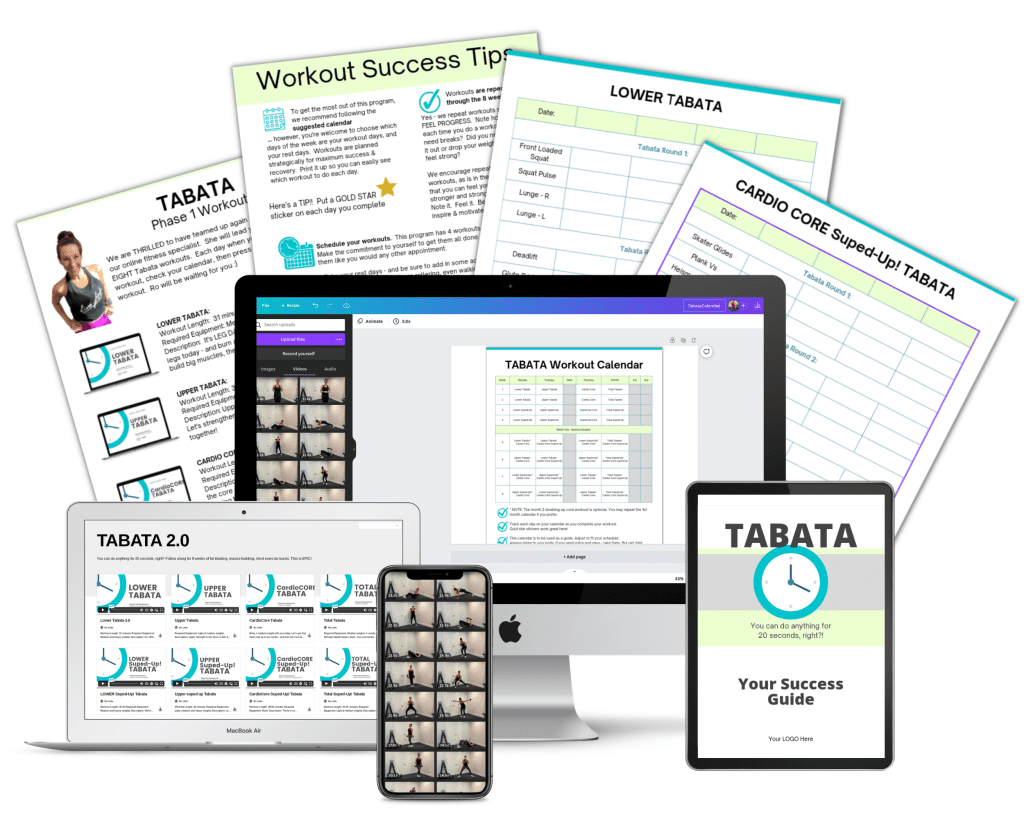 Honestly – I created the original Tabata program before I even know what making white label workouts was! Haahaa! I've definitely learned & mastered a few skills since then, and I've really been wanting to recreate and update this program. Tabata is absolutely my FAVORITE protocol .. so I give EVERYTHING to this program. It's 8 weeks of complete full follow along home workouts – designed to fat blast, muscle sculpt, and engage participants through short 20 seconds bursts.
The 2.0 update comes with a whole new suite of tools to add massive value to your clients and your business. 
8 full follow along workout videos (over 250 minutes of workout video!!)
Editable client success guide with tips, calendars and tracking sheets
2 week pre-written sales & marketing plan
AND I'm even throwing in my BEST SELLING 21 day Fitness challenge – the GOLD STAR challenge – which has been re-written to walk you through the full sales process of TABATA 2.0.
Officially launching tomorrow … but just for YOU,  my WOW subscribers, I'm giving you early access.
Learn more about the ALL NEW TABATA 2.0 White Label Workout Program >
AND!! Along with the excitement of launching the TABATA 8 Week WHITE LABEL Online Fitness program … I'm also re-branding and re-launching the COMPLETE WHITE LABEL WORKOUT LIBRARY.
It's now called the Online Fit Pro's Business Blueprint – and that's exactly what it is. A complete business blueprint. A fit biz in a box. The ultimate toolbox for fit pros looking to build a thriving online business.
What's included in the blueprint? EVERYTHING … Literally YEARS worth of fitness & marketing content for your business, and your clients.
YEARS of Social media posts to attract your ideal clients
12 Fitness challenges to act as lead magnets … to engage your audience and built trust & authority
14 Complete Online fitness programs – with full follow along videos, client support materials such as calendars, tracking sheets, nutrition info, and more! Also included with the programs are sales & marketing plans to do the 'sales' for you.
and so much more!
Everything is done for you – yet white label. Super eay to add your own logo and edit to your branding.
Attract. Engage. Build Credibility. Easily sell. Add massive value. Support & retain.
ALL of it is built into the Online Fit Pro's Business Blueprint. It's a total roadmap to success. It is ALL the fitness & marketing content you will ever need -bundled into one package.
Stay tuned, and get excited. This is launching just in time for XMAS later this week. My GIFT to you, your clients, and your business.
—-
And now … the White Label Workout for this week …
OK … Phew – I know that was a lot, and I hope you can feel my excitement OOZING through right now. NOW is the time to absolutely EXPLODE our fitness businesses. Let me help you with yours.
And it all starts with this week's WOW! The WOW is the White Label Workout of the WEEK …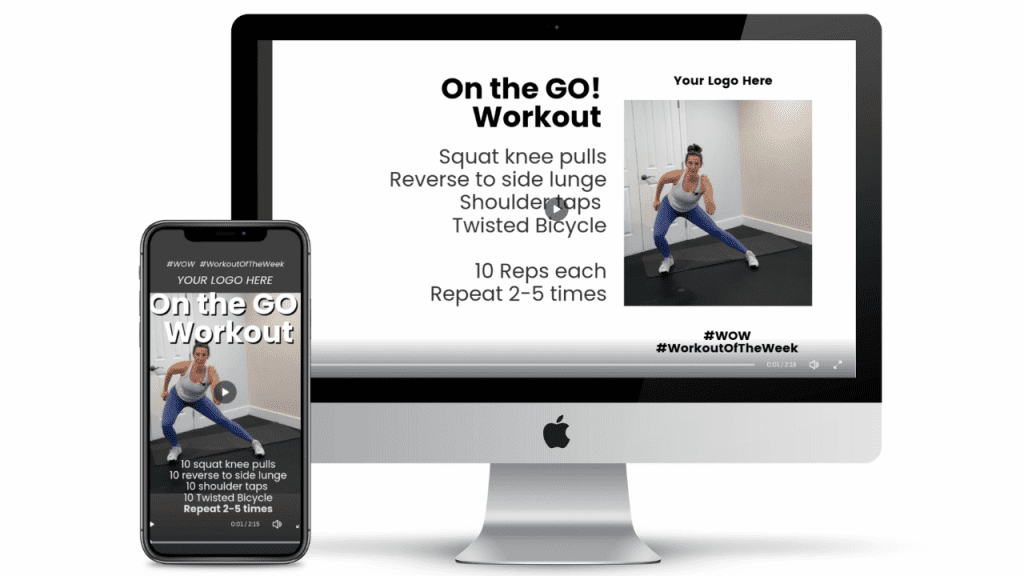 For those who are new here … I blast out a free workout each week. You are welcome to drop in your own logo, make whatever edits you'd like .. then share away in your business however best suits you 🙂 Yes – this is my FREE GIFT for all health & fit coaches to use.
This week, because the world is crazy busy right now with the holidays – I felt it was a good time for an ON THE GO workout. This set can be done literally anywhere. No equipment is needed. It can be done in a hotel room … visiting friends and family .. at work .. or anywhere on the road.
It's nothing fancy – but it's still super FUN and an awesome full body sweat sesh!
4 moves. 10 reps each. Repeat 2-5 times.
10 squat knee pulls
10 reverse to side lunge
10 shoulder taps
10 Twisted Bicycle
Here are the VIDEOS for you to EDIT, DOWNLOAD & SHARE for this workout:
Click to edit & download the VERTICAL video in Canva >
Click to edit & download the HORIZONTAL video in Canva >
Drop in your logo .. edit away as you'd like … and share away. It brings me so much joy creating all these tools for you … I hope you love them and use them. Have fun!!
Xoxo
Ro ~ The Online Fitness Specialist