Hey coaches  – Ro here – the Online Fitness Specialist from WhiteLabelWorkouts.com … bringing you this week's White Label Workout of the Week.  Our theme for this one is TWIST & PULL.  It's all about the core – targeting our center with these 2 key functional movement skills.
Watch the video to see TWIST & PULL in action …
You're welcome to share this workout with your crew.  Simply drop in your own logo in the placeholder … edit any fonts, colors & styling to match your brand … then share away.   The editing is super quick & easy to do … give it a go …
Click HERE to edit & download the Twist & Pull workout video in HORIZONTAL format >
Click HERE to edit & download the Twist & Pull workout video in VERTICAL format >
With this workout we're celebrating the pre-launch of our newest online fitness program – the White Label CORE SHRED.  This is a 3 week fitness & nutrition program focusing on 360 degree core training.  We're working up, down, front &  back, then we head into FIGHT MODE and really blast off towards our goals. 
The CORE SHRED program is officially launching June 1 – but pre-launch mode is in full swing now! You're welcome to check it out. What's included ..
Pre-launch marketing materials 
The 21 day CORE challenge – A lead magnet to help attract & engage your audience 
3 weeks of workout videos (almost 300 minutes of video content! – yes 300!!  It's a LOT of full length workout videos!!)
Client success guide & printables with a workout calendar & tracking sheets 
Guess what's NOT included?  I'll tell you … sit ups & crunches!  We're shredding the core with absolutely NO sit ups.  And no crunches!  Just super FUN, engaging, results-driven workouts … AND a nutrition focus too!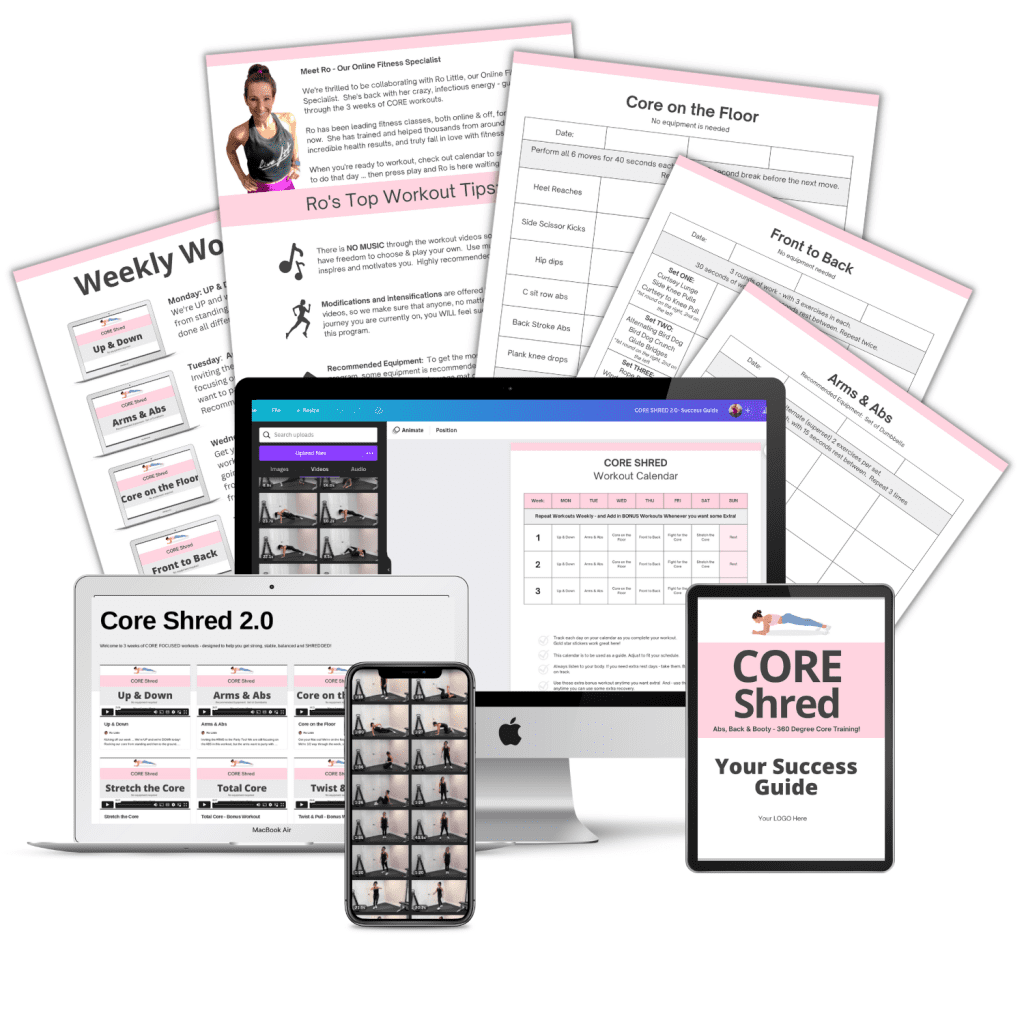 Help your clients get AWESOME core shredding results, while adding PROFIT into your fitness business.
YES – this program is for you SELL and make MONEY from! Everything you need is included.
Everything is white label and ready for you to make it your own.  It's just as easy to do as with editing our weekly workouts.  You have full freedom to make any edits as you see fit to work with your business.  
How to address that it's ME coaching in the videos?  Simple.  Just say that you've hired me, or collaborated with me, and we build these programs together.  That way everything flows with me leading the workouts.  I'm super happy to be on YOUR team – and YOU are super smart to delegate 🙂
Learn more about the White Label CORE SHRED Workout program here >
NOTE:  To all FULL members of the Fitness Business Blueprint – the CORE Shred has already been added into your account.  It's waiting for ya! Log in and go download away … 
To all MONTHLY Blueprint members – you'll get access to the CORE program automatically on your renewal date through June, so be watching for it!  
Not yet a Blueprint member?  I highly recommend it!  You get access to ALL our content.  Yes – EVERYTHING!!  ALL white label workout programs.  ALL fitness challenges.  ALL social media content.  It's all included.  It's basically the EASY BUTTON for fitness business owners.  Learn more about the Fitness Business Blueprint here > 
—
Questions?  Comments?  Requests? As always, I'm here and super happy to chat.  My goal is to help YOU be successful with your online fitness business – to help YOU make more money!! I'm always here to help.  Reach out anytime and let's chat.
Have an absolutely SPECTACULAR week!
Xo ~ Ro ~ The Online Fitness Specialist
WhiteLabelWorkouts.com