Surprise – it's SUNDAY! I'm trying something a little different this week in sending you the WOW (White Label Workout of the WEEK) today instead of on Monday. I figure this way you have more time to get your 'workout of the week' edited and off to your crew. Let me know what you think of getting this on Sunday instead of our usual Mondays …
OK .. so let's get into this week's workout …
This week is called PUSH the Floor: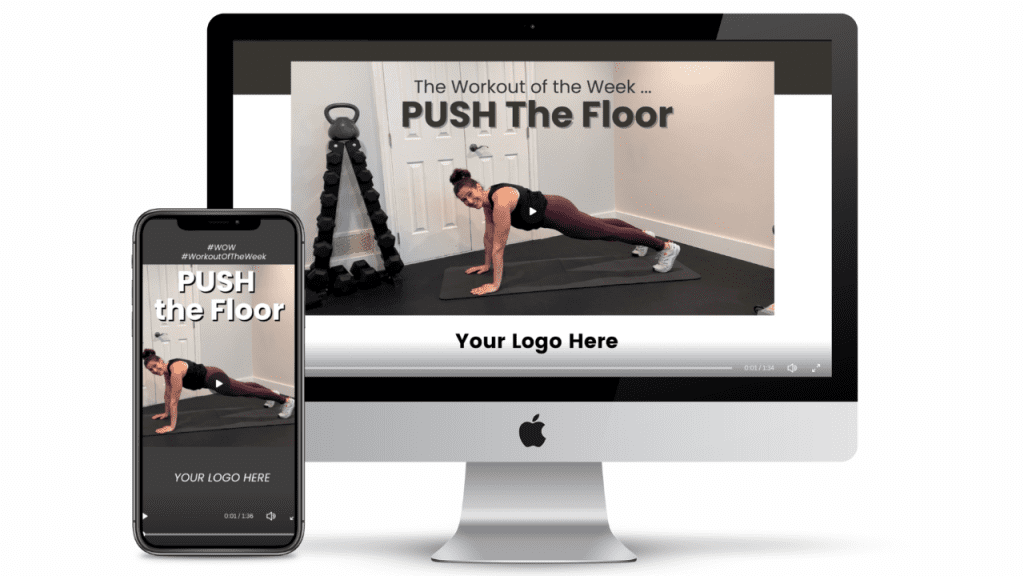 We're focusing on our upper body and core through this session, using just bodyweight and well … pushing the floor 🙂
The moves are:
Downdog to plank
Push ups
Triceps dips 
Plank side punches 
4 sets of 10 reps each
Here are your CANVA EDITABLE VIDEO links:
Click to edit the HORIZONTAL video >
Click to edit the VERTICAL video >
I give you both formats, and you're welcome to choose which works best for you. If you're posting to reels or stories, use vertical. Posting to Youtube, use horizontal.
You have full freedom here to use this workout however you'd like.  Drop in your own logo & change any styling to match your business branding.  
Then share away. Use it as your own in your business. I'm here for YOU – as Your Online Fitness Specialist to help build your business.
Need more online fitness content to follow up to this video? 
Check out all of my White Label Workout Programs, Done-For-You Fitness Challenges, or for the BEST value, check out The Online Fit Pro's Business Blueprint.  I have TONS of Done-for-You fitness content to help you truly explode your business online.
Got questions about how it all works?  Want to team up but not quite sure about how to make it happen?  Reach out.  I'm a real person at the other end, and I LOVE hearing from you.  Email me anytime at hello@whitelabelworkouts.com and let's chat about teaming up to bring your crew engaging, results-driven, and FUN online workout programs.
I am here for you. To support and serve you on your journey to success,
Ro ~ Your Online Fitness Specialist