Hey coachies – your white label workout of the week is here .. and this week we're kicking off a new series – 3 weeks of BOOTY!
The feedback from our 5 week Bodyweight series was amazing!! So I'm thrilled to be bringing you another series of white label workouts for you to brand as your own and use in your business. This resource is free for all coaches to brand & use anyway you'd like to help build your profitable online presence.
Let's kick off the BOOTY party with a BURN! Grab your loop bands … have your clients bring out their bands … and let's gooooooo …
Check out the video below to see this week's workout in action:
Here are your links to edit & download these videos: 
You can choose from horizontal (best for youtube)  or vertical (stories & reels) … or use both!  Whichever fits best with your business.  
These links take you to CANVA (free account) where you can easily drop in your logo in the placeholder … update any fonts, colors & styling to match your brand .. then download your work and share away …
Click here for the HORIZONTAL video >
Click here for the VERTICAL video >
Terms of use:
If you're seeing this, you have full permission to use these videos in your business.  Modify however you'd like and make it your own – then share away.  You can share on your social, on your website, in your app, with clients … however you'd like.
How to MONETIZE these videos:
Note there's a screen at the end of the videos where you can add in a NEXT STEP you want the viewer to take. Are you currently selling a fitness program or service? Enter the details and link them where you want them to go. You can put whatever details you'd like in this section.
Looking for a DONE FOR YOU fitness program to share with your clients?
These Booty WOWs that I'll be sharing with you over the next 3 weeks lead perfectly into our full online fitness program, called 6 weeks of BOOTY!!  It's developed white label – so you just add in your own branding and share away.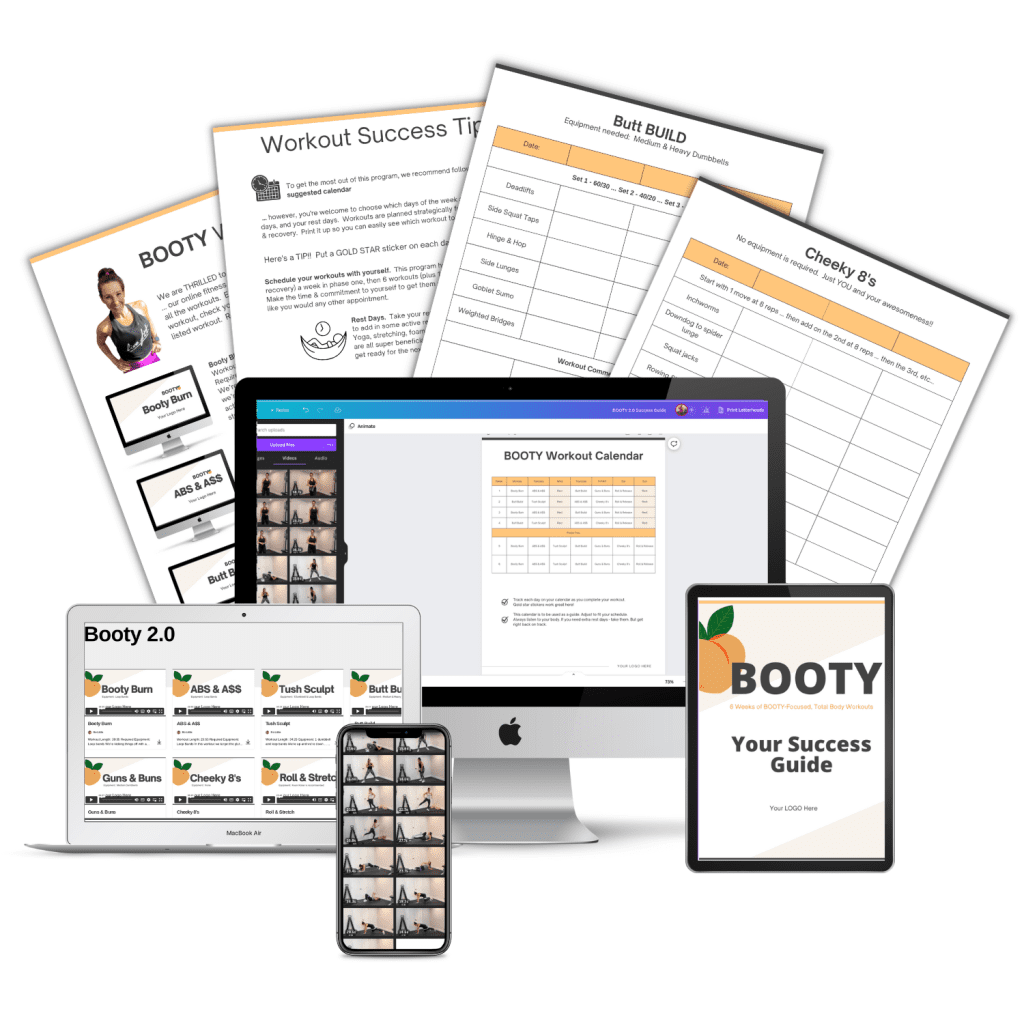 My full programs are complete packaged fitness programs. The BOOTY workouts are FULL LENGTH … about 30 minutes each … I'm talking, guiding, cueing, and inspiring the viewer through the whole session. And you'll get 6 weeks of booty burning & tush sculpting workouts!
Everything you need as the coach is included … including a client success guide packed with success tips, and a workout calendar &  tracking sheets .  PLUS!!  You get all the marketing tools to sell and earn income from this program.  
The white label BOOTY workout program can be purchased on it's own click here … OR it's included as part of the Online Fit Pro's Business Blueprint.  Full members got PRE-access to it last week … and it's being released to our monthly members over the coming weeks through March.  
Monthly Blueprint members get a complete new white label workout program each month, for 12 months (PLUS a fitness challenge and a slew of bonuses each month).
February content is the BODYWEIGHT program – and it is only avail until Tuesday night!  If you've been thinking about registering for the Blueprint and want the BODYWEIGHT program … you're running out of time!  If you miss it, it's gone until next year.  Click here to register for FEBRUARY content.
OR!!  If you want to jump right in and get started with March's BOOTY program – you're the first to get the pre-release link!!  This is not avail to the public until this Wednesday, but I wanted to share this with you first.  Here's the pre-release link to get started today with March content – the BOOTY program!  Click here to register for the Pre-release of MARCH content. 
–
NOTE!!  All that said – ANY coach, selling ANY program or service – can still use the white label workouts I send out each week.  There are no strings attached to using the WOWs I provide you with each week … so feel free to use away and put in whatever content at the end that you'd like your audience to move to – or simply leave that part out and just share the content.  I just want you to know that I also offer done for you solutions to help you easily build your business earn income through it – if you're interested 🙂
Questions? Comments? Feedback? I truly LOVE hearing from you! Reply here or email me directly at hello@whitelabelworkouts.com and let's chat … anytime!
Stay AWESOME,
In service to helping you build your profitable online presence …
Ro ~ The Online Fitness Specialist