This is our first official WOW of Fall – AND this WOW marks the start of this new blog series on my website! SO excited to now have a forum to share these FREE Weekly White Label Workouts with the world.
I call them WOWs!  (Workouts of the Week). 
It brings me so much joy creating these WOWs for you … I hope YOU enjoy doing them, and sharing them with your crew! My hope is that you use these WOWs to help build your fitness business – to generate new leads, followers, and lifelong clients.
Included below are the EDITABLE videos to go with this workout. Edit them however you see fit. Add your own logo, branding, and style. Share as your own. You're welcome 🙂
So let's jump right in …
Our theme this week is 'One Weight Wonder'
All you need is ONE dumbbell – a light to medium weight.
3 moves … 10 reps each:
Press Jacks (modification is to tap instead of jump)
Lunge Curl Twists
Plank Dumbbell Taps (modification is to plank on knees instead of toes)
This workout is an AMRAP – so we're blasting out AS MANY ROUNDS AS POSSIBLE! Challenge your crew here – how many rounds can THEY do?? Have fun with it!
I've created both horizontal and vertical videos to go along with this workout – choose which works best for you. Vertical for stories & reels – horizontal for youtube.
Vertical video: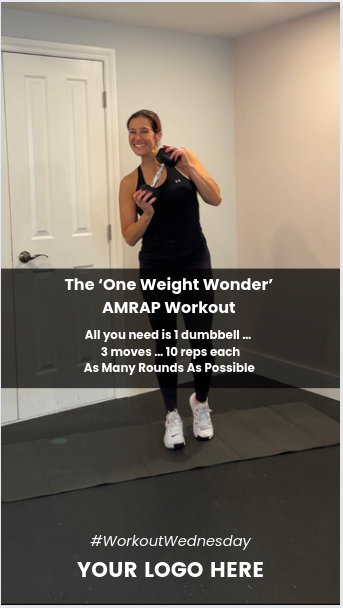 Horizontal Video: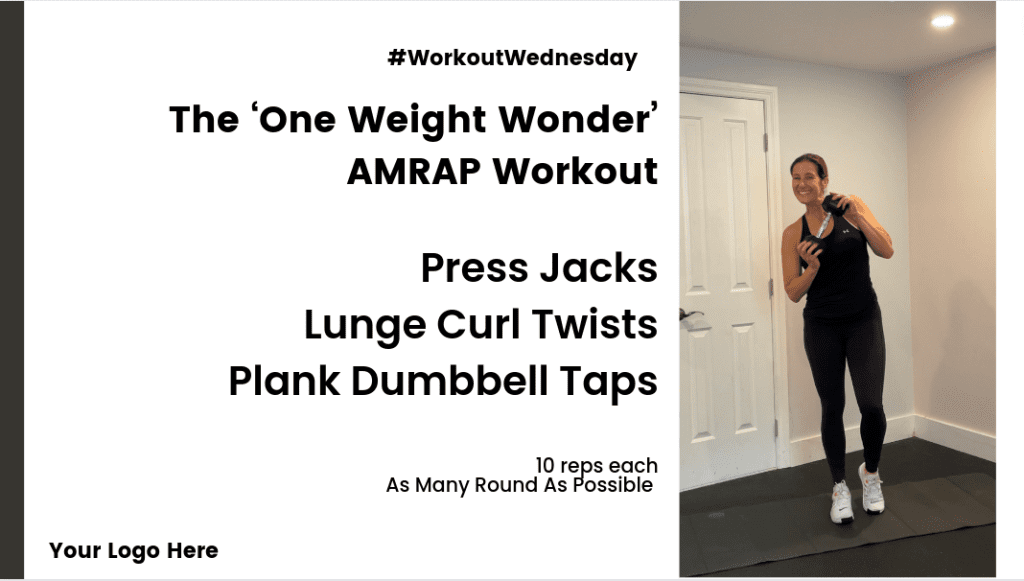 What do you think of this new WOW series? Enjoying getting FREE White Label Workout content? Comment below with any suggestions of what you'd like to see in the future WOWs …
And stay tuned … new WOWs are coming at ya every Monday – right here at WhiteLabelWorkouts.com
xoxo
Ro 🙂