21 Days to 'Tighten the Tummy'!
Build Trust, Engagement & Community with the 21 Day CORE Challenge. Everything you need to host this challenge is already DONE for YOU.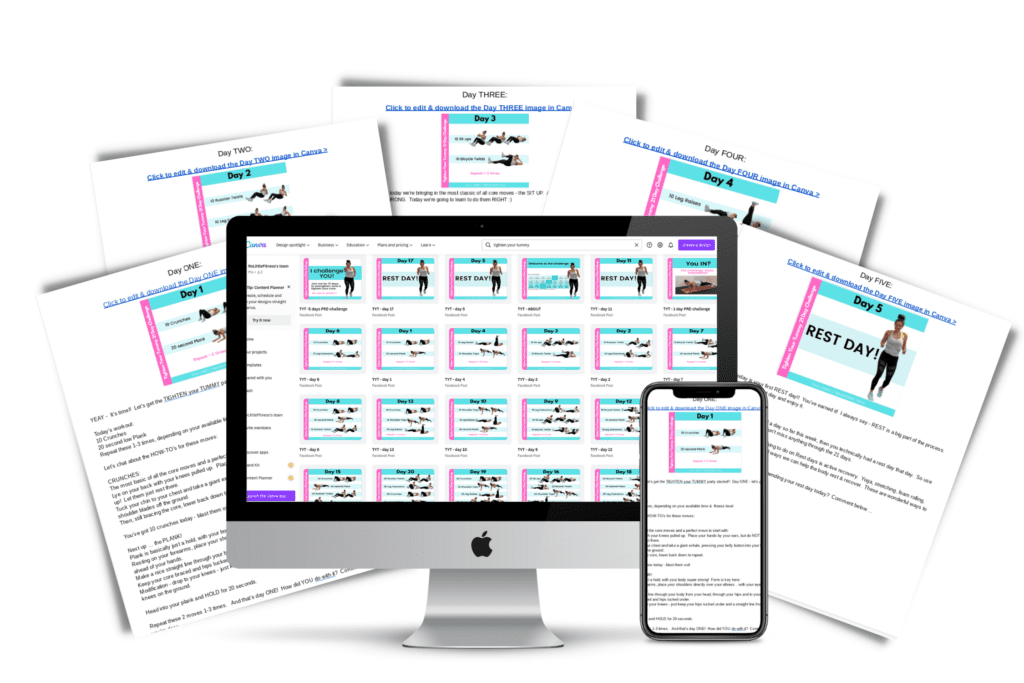 21 Day Progressive Workout Calendar

21 days of posts walking you through the full challenge

21 editable workout images

Marketing posts and images to help you build the buzz about your challenge
Here's What You'll Be Getting:
5 days of PRE-Challenge Marketing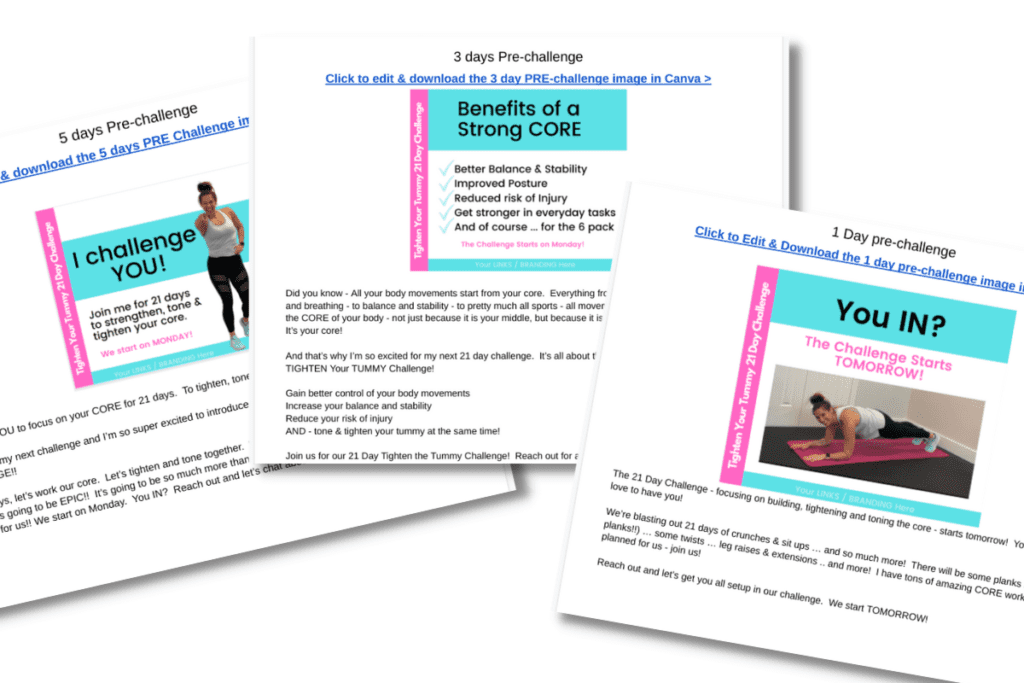 What good is hosting a challenge if no one knows about it? Use our done-for-you marketing plan, posts & images to get the word out and people registered for your challenge. It's all super easily editable, should you choose!
21 Day Calendar of Workouts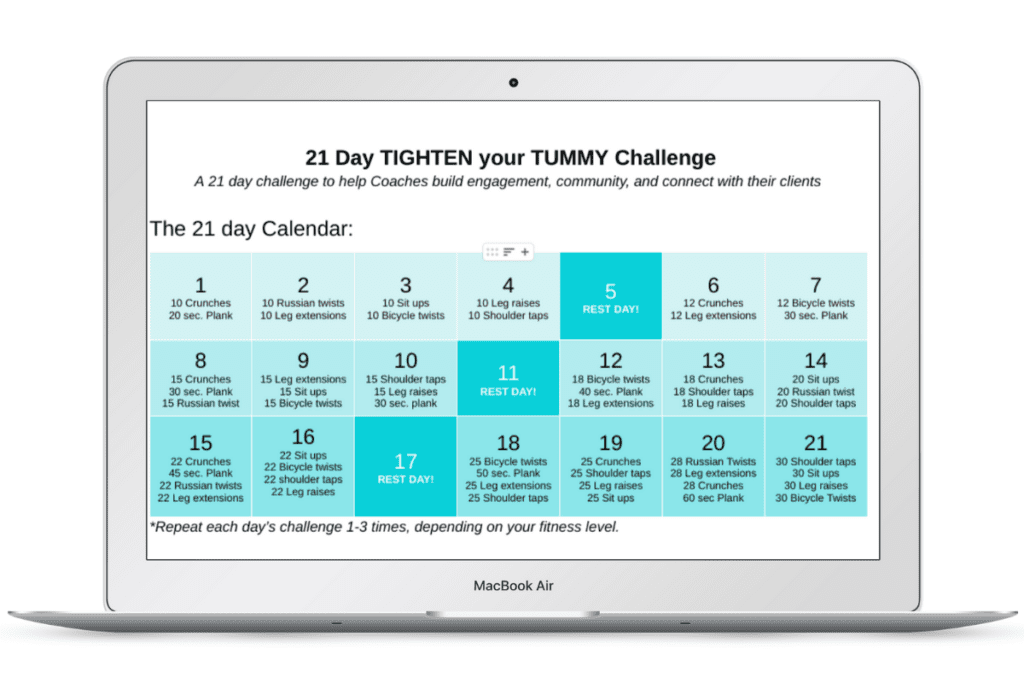 It's all planned and done for you! The calendar lists the workout of the day for quick reference. The days are laid out in a certain order for body split and progressions.
21 Days of Posts with images & videos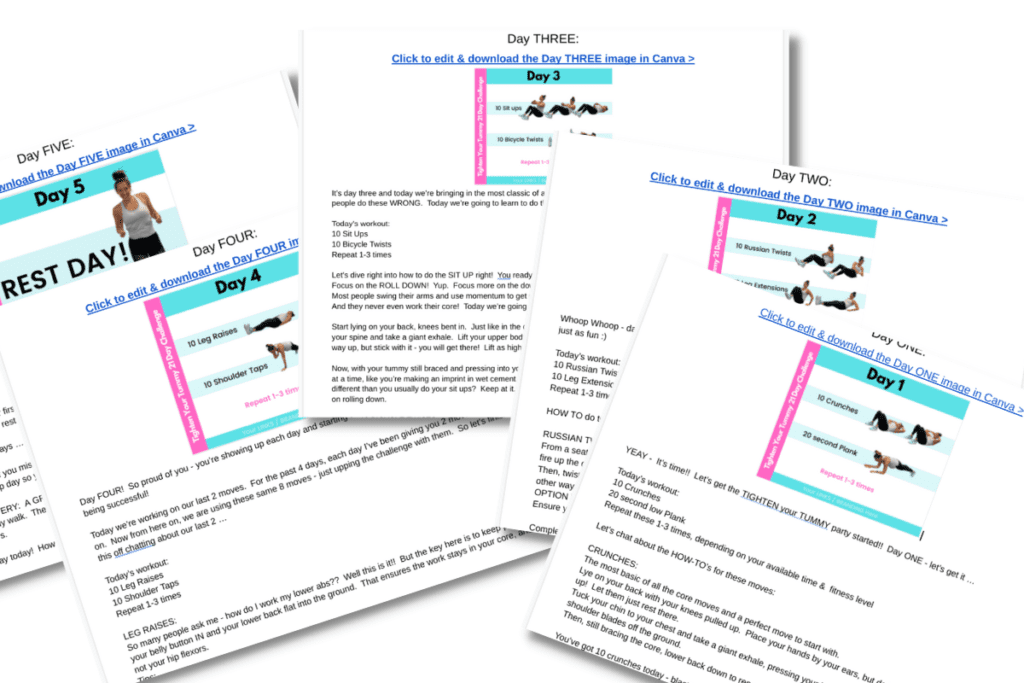 Everything you need to host this challenge is already done and included. The posts & images are all created for maximum engagement and success. It's all editable – feel free to use as is, or make it your own.
Order NOW For a One-Time Payment of Just $197
ABOUT the 21 Day CORE Challenge:
I like to call this challenge the '21 day TIGHTEN your TUMMY challenge!' No matter where your clients are currently at on their fitness journey, we can all show a little extra LOVE to our core! That is what we are focusing on through this challenge.
Here's how this challenge works:
Each day you'll post a list of exercises to do that day – along with instructions on how to do them. I provide you with everything you need to run this challenge – so I'll give you all the images and post captions you'll need. We start off with just 2 exercises, in light reps, and then we build on it over the 21 days.
There are just 8 CORE exercises that we will be using through this challenge. Each targets the core just a bit differently – some work the transverse abdominis, some the obliques (sides), some the lower abs. You probably know all of these moves – we're sticking to the basics here:
Crunches … Sit ups … Russian Twists … Bicycle Twists … Leg Extensions … Leg Raises .. Low Plank … Plank Shoulder Taps.
'Choose Your level':
As with most of my other challenges, I gear them to ALL levels. Challengers are able to choose how many rounds of the day's workout they do. Beginners can stick to just 1 – and those who want more, more is there for them 🙂
Engagement:
That's what this challenge is all about! In each day's post, challengers are encouraged to answer a question, or make some kind of comment to engage back. This helps them commit and stay accountable, and helps to build engagement and trust with you.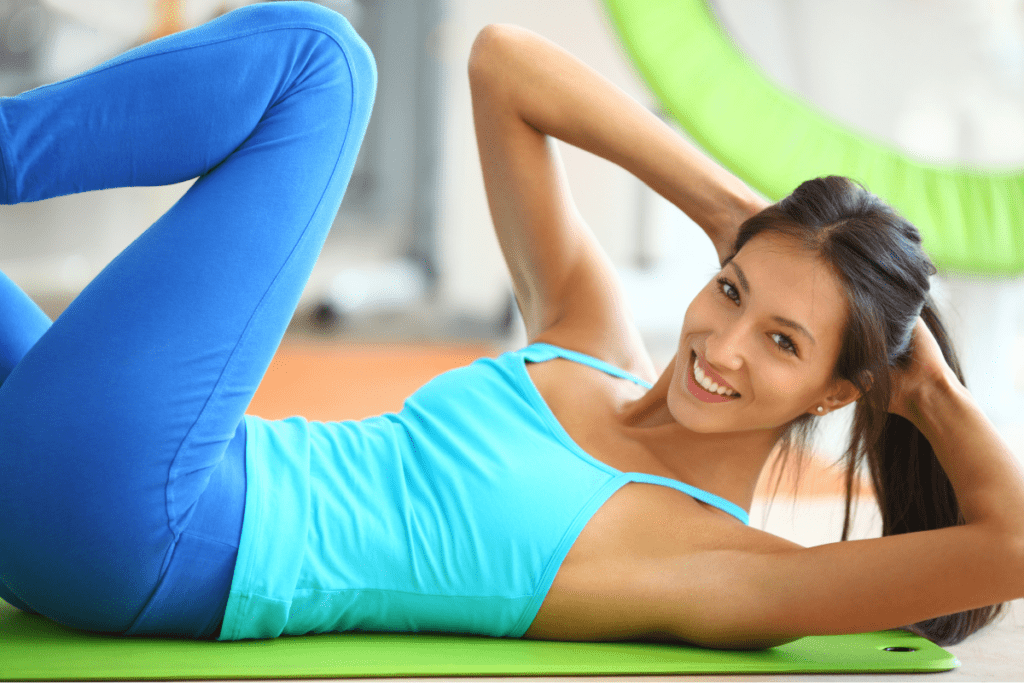 Why Trust Our Program?
Questions?
Get Started TODAY!
Build TRUST & Engagement with the White Label 21 Day CORE Challenge … Quickly & Easily!
It's all DONE FOR YOU and Ready to Start Rockin'!
Instant access to ready-to-share business building templates.