Hey Coachies!! Happy WOW day!! Whoop Whoop!!
We've got SO MUCH AWESOME happening at White Label Workouts right now … and the fun is just getting started 🙂
NOW really is the time to be cranking things up … the January burst in our business is almost here.  And my goal … is that each of YOU to be the first person that YOUR audience thinks of when they make that new year's resolution.  
So please – use all the tools I'm sharing with you. Post lots – with genuine love and care for them 🙂 They'll come to you when they're ready, come Jan 1. NOW is the time to be 'massaging and prepping' them. NOW is the time to show that YOU are their go-to person.
So yes … we have lots going on right now at White Label Workouts to help you get there …
The 24 Days of FITmas is in full swing!
For all of you in our Facebook community, I'm having so much fun posting each day with the 24 days of Fitmas videos. If you're not in this group yet … join here →
Each day I'm sharing a FREE video for you all to share with your audience. Yes .. FREE. My gift to you. Edit them and use these daily videos however you'd like in your business.
This week's WOW:
And speaking of my gift to you .. it's WOW day!! I've got such a fun Workout of the Week for you today. Ok – they're all fun 🙂
For those who are new here … I blast out a free workout each week. You are welcome to drop in your own logo, make whatever edits you'd like .. then share away in your business however best suits you 🙂 Yes – this is my FREE GIFT for all health & fit coaches to use.
This week's workout is an AMRAP.  As many reps (or rounds) as possible.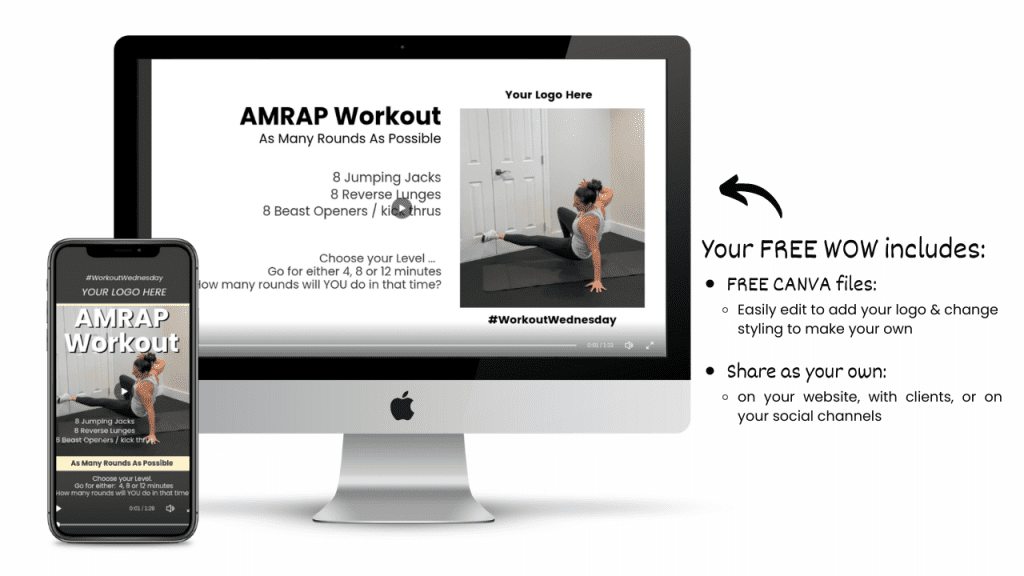 Challenge your crew to see HOW MANY they can do in their specified time. Set a timer and keep moving until the time is up.
Level 1 = how many can you do in 4 mins?
Level 2 = how many can you do in 8 mins?
Level 3 = how many can you do in 12 mins?
The 3 moves are:
Jumping jacks x8
Lunges x8
Beast openers / kick throughs x8
Have them challenge themselves – do it 1-3 times a day over this next week. See how much they can improve. Track it. Progress is so powerful & motivating!
SUPER IMPORTANT!  Even though we are working for speed here, FORM is always KEY!!  If form fails, take a step back and zone in again.
Here are the VIDEOS for you to EDIT & DOWNLOAD for this AMRAP workout:
Click to edit & download the VERTICAL video in Canva >
Click to edit & download the HORIZONTAL video in Canva >
Drop in your logo .. edit away as you'd like … and share away. It brings me so much joy creating all these tools for you … I hope you love them and use them.  Have fun!!
Xoxo
Ro ~ The Online Fitness Specialist
Ps … Be sure to keep checking the Facebook group each day for the FITmas Challenge video. Here's the link: https://www.facebook.com/groups/493663762091789
Pps … NEW ONLINE FITNESS PROGRAM IS IN THE WORKS!!!  LAUNCHING Dec 20th!!  TABATA 2.0!!  OMG … I'm so excited!  I'm recreating my first, and my absolutely MOST FAVORITE program!!  Not gonna lie – The 1st version had terrible technology, lol!!  No mic, an old camera, etc.  It was my very first recorded program and I was just figuring out how to do all this.  The workouts themselves are AMAZING and I am JACKED TO THE MAX to be updating and re-recording the CLASSIC program.  Stay tuned!!  THIS is going to EXPLODE your JANUARY!!!  TABATA is THE MOST popular protocol and this is a GAME CHANGER!  Get excited 🙂