Lunges are BIG moves – working BIG muscles – and producing BIG results. But so often done incorrectly. Let's work on them – for 21 days.
Build Trust, Engagement & Community with the 21 Day LUNGE Challenge. Everything you need to host this challenge is already DONE for YOU.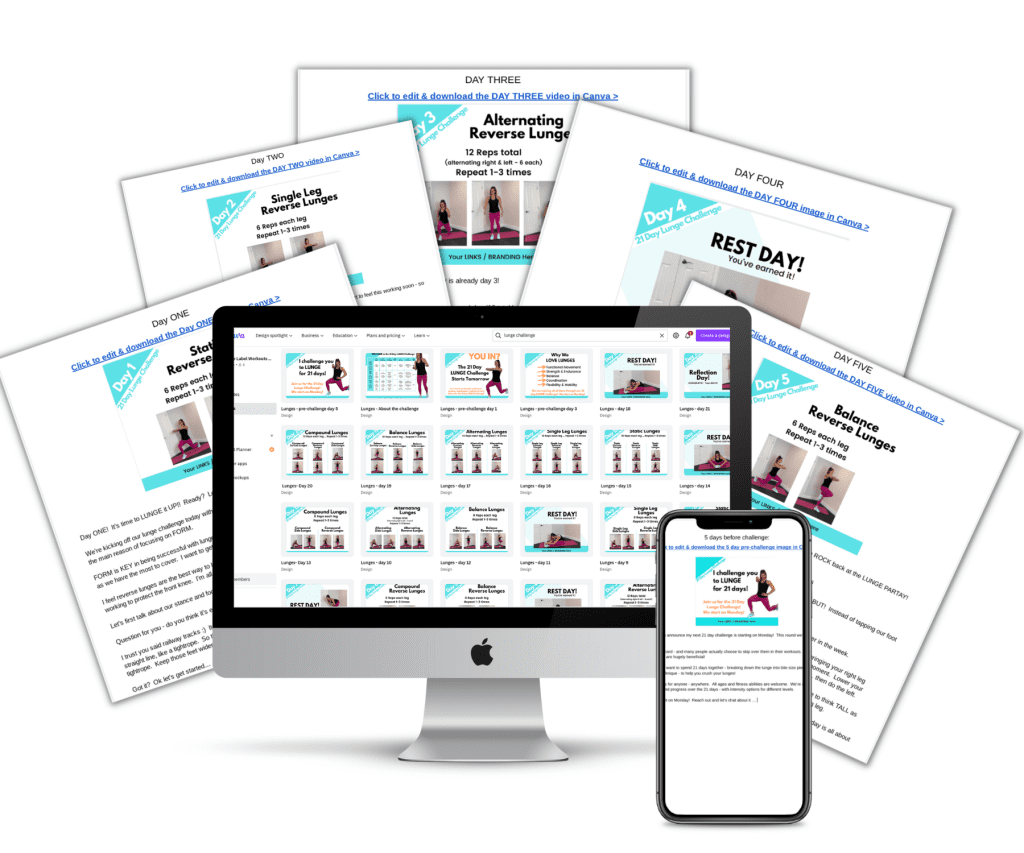 21 Day Progressive Workout Calendar

21 days of posts walking you through the full challenge

21 editable workout images & videos

Marketing posts and images to help you build the buzz about your challenge
Here's What You'll Be Getting:
5 days of PRE-Challenge Marketing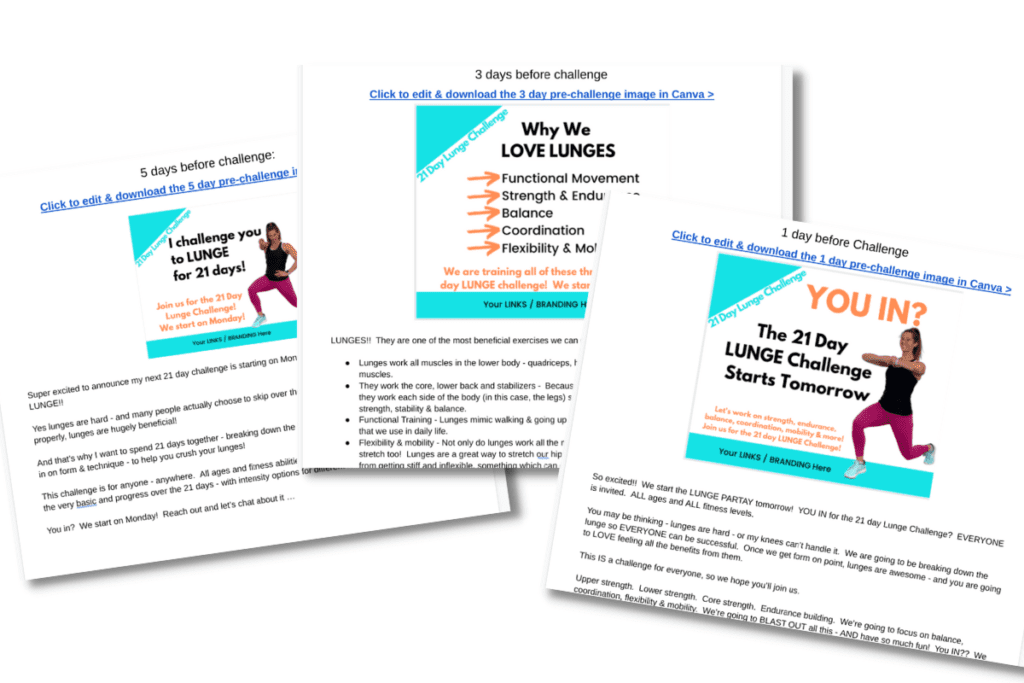 What good is hosting a challenge if no one knows about it? Use our done-for-you marketing plan, posts & images to get the word out and people registered for your challenge. It's all super easily editable, should you choose!
21 Day Calendar of Workouts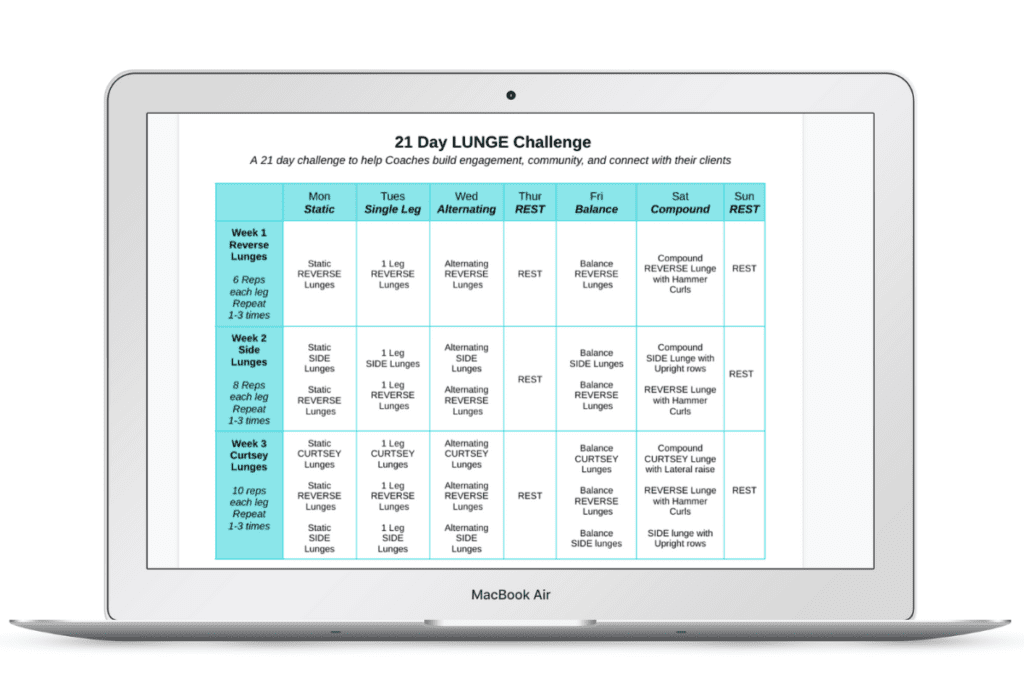 It's all planned and done for you! The calendar lists the workout of the day for quick reference. The days are laid out in a certain order for body split and progressions.
21 Days of Posts with images & videos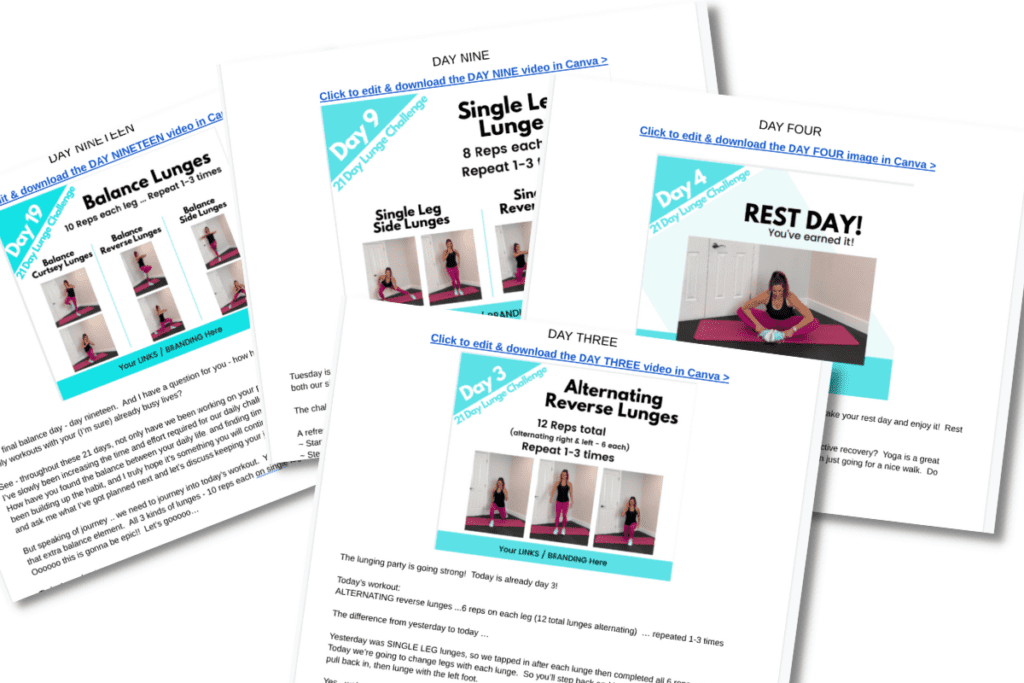 Everything you need to host this challenge is already done and included. The posts, images & videos are all created for maximum engagement and success. It's all editable – feel free to use as is, or make it your own.
Order NOW For a One-Time Payment of Just $197
ABOUT the 21 Day LUNGE Challenge:
Lunges are BIG moves! They work all the big muscles of the body – all your leg muscles, your core, lower back, and cardio! And if form is off, many can experience knee or back pain from them. That's why so many people unfortunately stay away from them. But together with this challenge, we're going to help your clients perfect their form & getting so much AWESOME from their lunges.
What exactly is a LUNGE?
A lunge is a functional move that we use so often in daily life. And that's the main reason they're so important to train. Think walking, climbing stairs, bending to tie a shoelace, getting down on 1 knee to propose! We need lunges for all of these. A lunge is basically bending the legs to make 90 degree angles at the ankles, knees and hips.
When done correctly, lunges can effectively target your lower-body muscles without placing added strain on your joints. Lunges work strength – they build endurance – they challenge balance, stability and coordination. And there are so many ways to lunge! Tons of variety, and lunging FUN!
So let's chat about how exactly this challenge is going to work …
Each day there's a new lunge challenge to do. It's all listed out in the calendar so you can get a sneak peek. You'll notice each day of the week we're lunging in a different way – either static on 1 leg, alternating, balancing, compounding, etc …
This challenge includes the CHOOSE YOUR LEVEL option. Clients all come at this challenge from different places in their fitness journey – so we make these challenges suit ALL levels. Challengers can 'choose their level' as they go through the workouts.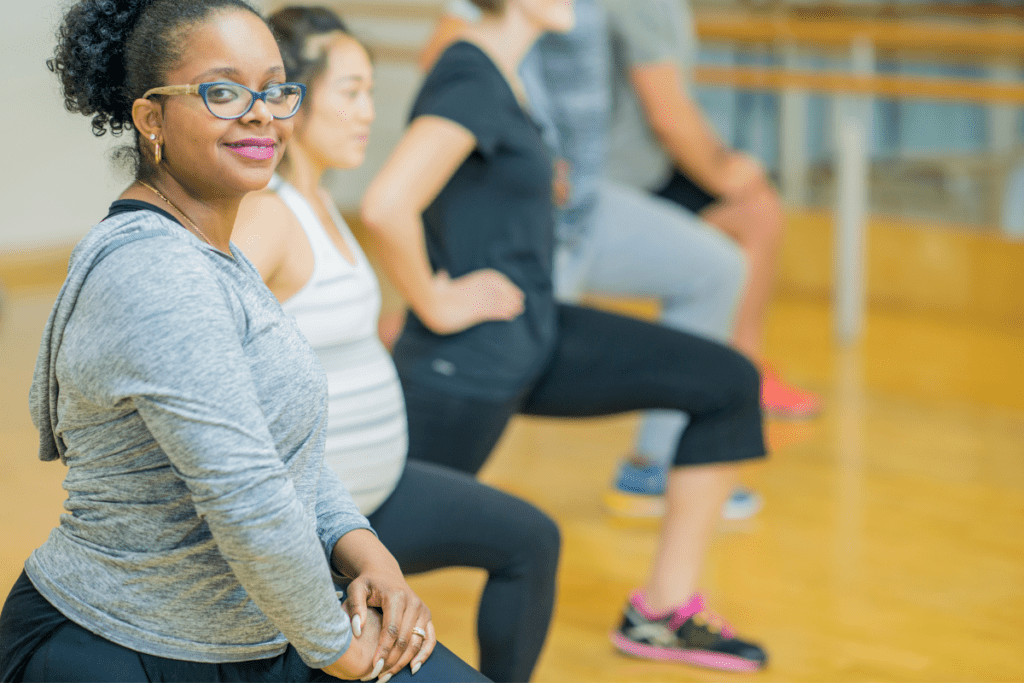 Why Trust Our Program?
Questions?
Get Started TODAY!
Build TRUST & Engagement with the White Label 21 Day LUNGE Challenge … Quickly & Easily!
It's all DONE FOR YOU and Ready to Start Rockin'!
Instant access to ready-to-share business building templates.