It's time to EMBRACE THE BURPEE! Over 21 days, we will prove that anyone can master burpees (and dare we say, have fun doing them?!)
Build Trust, Engagement & Community with the 21 Day BURPEE Challenge. Everything you need to host this challenge is already DONE for YOU.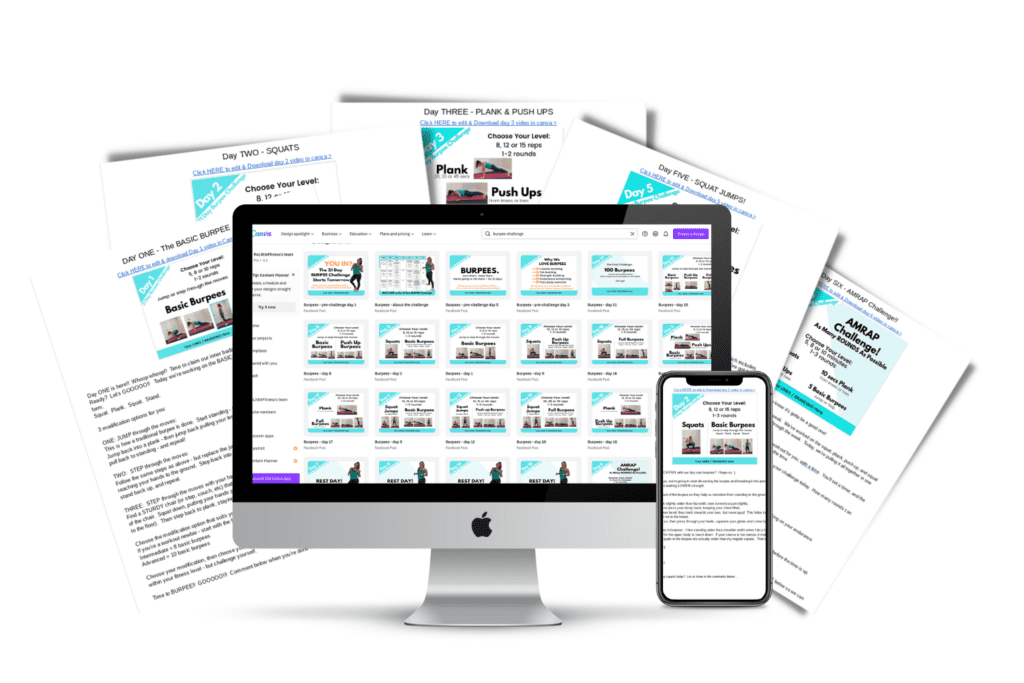 21 Day Progressive Workout Calendar

21 days of editable posts walking you through the full challenge

21 editable workout videos

Marketing posts and images to help you build the buzz on your challenge
Here's What You'll Be Getting:
5 days of PRE-Challenge Marketing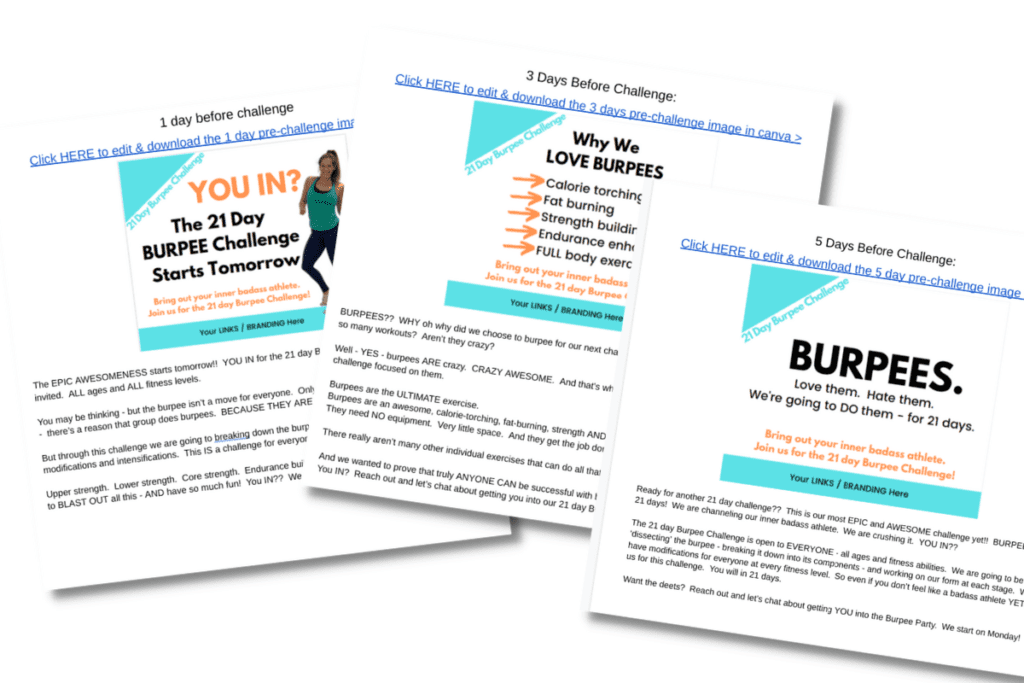 What good is hosting a challenge if no one knows about it? Use our done-for-you marketing plan, posts & images to get the word out and people registered for your challenge.
21 Day Calendar of Workouts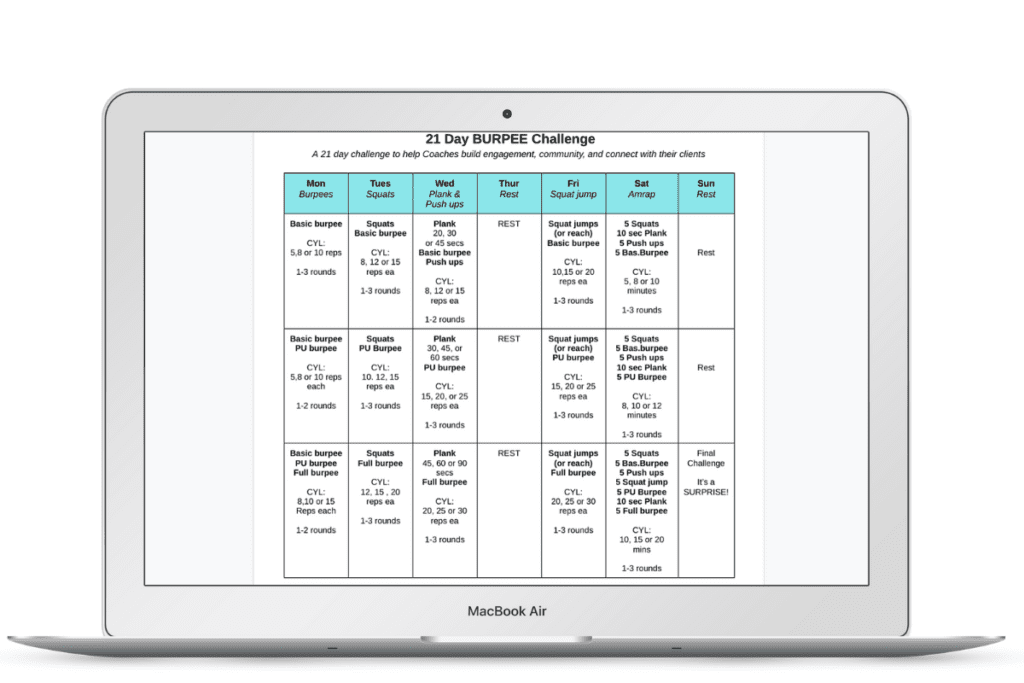 It's all planned and done for you! The calendar lists the workout of the day for quick reference
21 Days of Posts with Videos & images
Everything you need to host this challenge is already done and included. The posts, images and videos are all created for maximum engagement and success. It's all editable – feel free to use as is, or make it your own.
Order NOW For a One-Time Payment of Just $197
ABOUT the 21 Day BURPEE Challenge:
It's time to EMBRACE THE BURPEE!!
For you, your social followers & clients – it's time to crank up the intensity – bring on the sweat – and scorch a million calories. It's time to BURPEE – for 21 days of FUN!
I'm so excited to share with you all about the 21 day BURPEE Challenge – where together we will prove to your followers that anyone CAN & WILL be successful with burpees.
Burpees are such an EPIC full body exercise! They are awesome, calorie-torching, strength AND endurance building! They are a PERFECT focus for a 21 day challenge!
So let's chat about how exactly this challenge works …
Each day there's a new workout challenge to do. It's all listed out in the calendar, and all the posts, images and videos are ready for you to simply share wherever you are hosting the challenge. I recommend a closed Facebook group – but anywhere works.
Here's a breakdown of the workout days:
Mondays: TRACK YOUR TIME in your burpees. We give your clients an amount to do, and they will time themselves doing them. Each Monday they'll see progress and improvement 🙂
Tuesdays: SQUAT day. We're squatting – with a few burpees, for fun.
Wednesdays: PLANKs & Push Ups. Working on our form, and of course there's a few bonus burpees too!
Thursday: REST DAY! Take it!!
Friday: Squat JUMP day! We're building power. (Low impact options are available!! This challenge is designed for EVERYONE!)
Saturday: AMRAP challenge day! It's our last workout of the week – we gotta go a little crazy 🙂 We provide a full workout challenge, and a time. Clients are to set a timer and see how many ROUNDS of the workout they can do.
Sunday: REST DAY. It's part of the process!
CYL = CHOOSE YOUR LEVEL!
This challenge is designed for ALL LEVELS! We understand that everyone comes at this challenge from a different place with their fitness. So you'll notice CYL all over the calendar. That stands for CHOOSE YOUR LEVEL. I always list out 3 options with reps, times, etc. Clients are encouraged to choose the option that best suits their fitness level. But to not get comfortable! Nothing great comes from comfort zones. They are told to push themselves and challenge themselves to be better. There's options for everyone.
TRACKING:
Mondays and Saturdays are all about challenges and TRACKING. Clients see where they are on day 1, and then track their progress and improvements. Ahhhh PROGRESS. One of my FAVE things. PROGRESS is powerful. We're tracking progress and getting better, stronger, fitter with each burpee.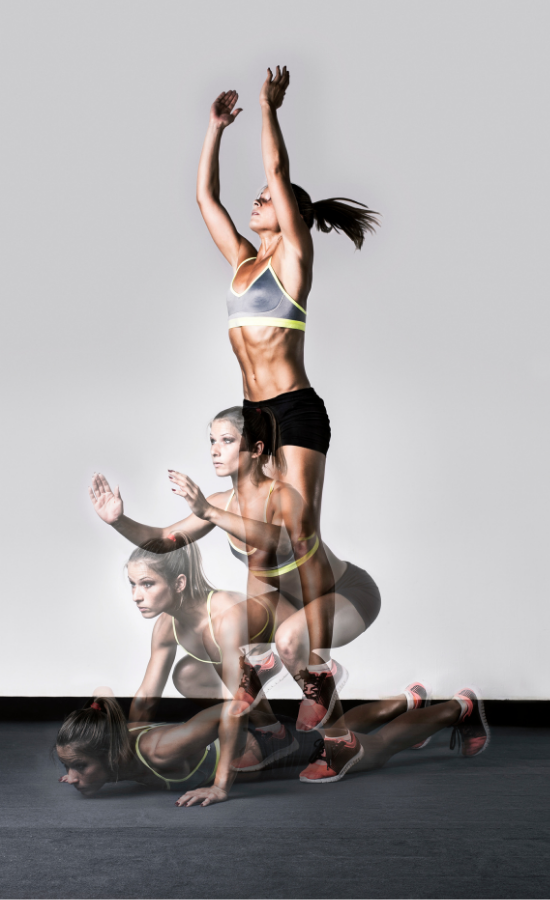 Why Trust Our Program?
Questions?
Get Started TODAY!
Build TRUST & Engagement with the White Label 21 Day BURPEE Challenge … Quickly & Easily!
It's all DONE FOR YOU and Ready to Start Rockin'!
All prices are in USD
Instant access to ready-to-share business building templates.