A personal message from Ro Little – Online Workout Creator Extraordinaire:
To all of my past & current subscribers from Jacob's sites:
Hi friends! Thanks so much for all of your support over the past year as I have been having a BLAST creating fitness content for YOU – to help YOU build your business and your clients truly enjoy the process of working out.
There have been many changes over the past months, and I'm throwing 1 final change out at you …
Jacob and I have mutually decided to part ways so we can both focus on building our own businesses, separately.
Please trust that I am 100% committed to continuing to bring you the same monthly fitness content that you have been receiving and count on for your business growth. All that you have been receiving remains – AND I am adding in even more great content for you. Know that the high-quality monthly content you've been receiving is still coming. And getting better each month.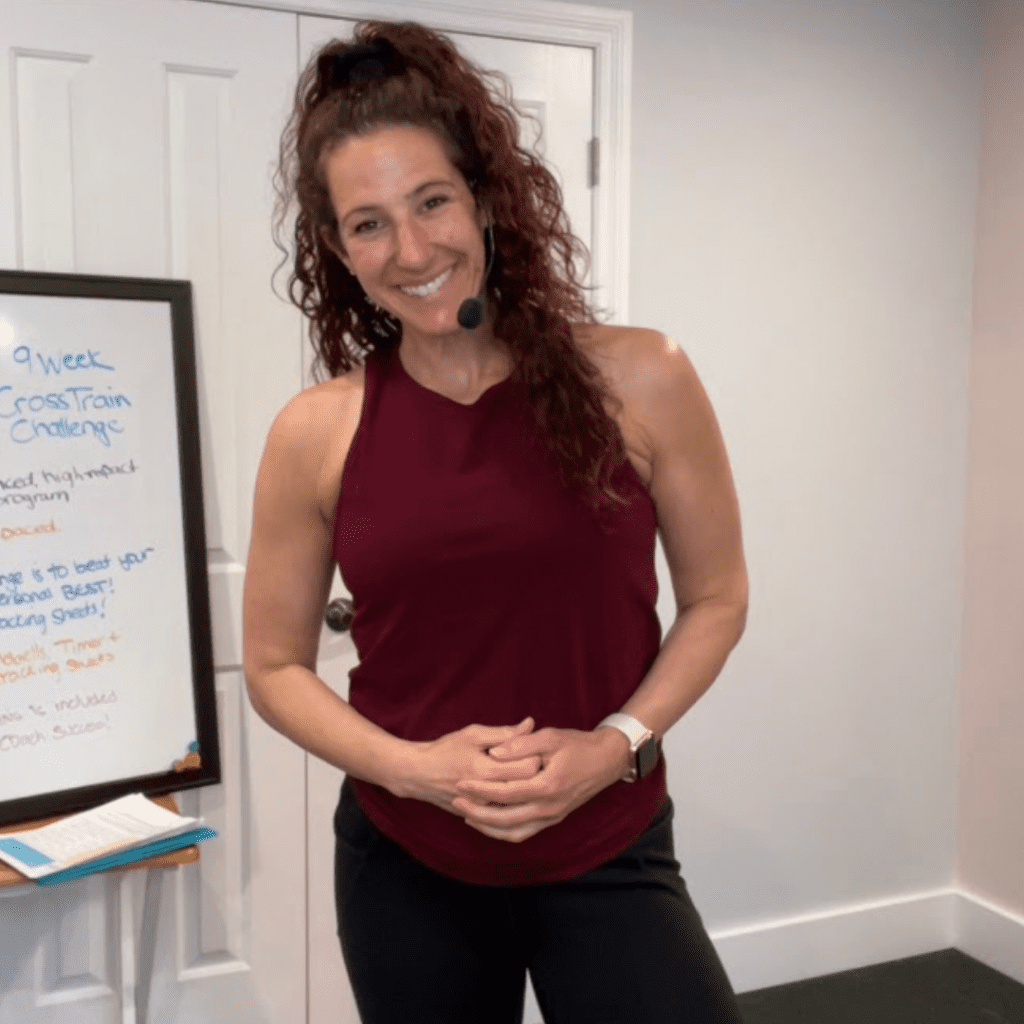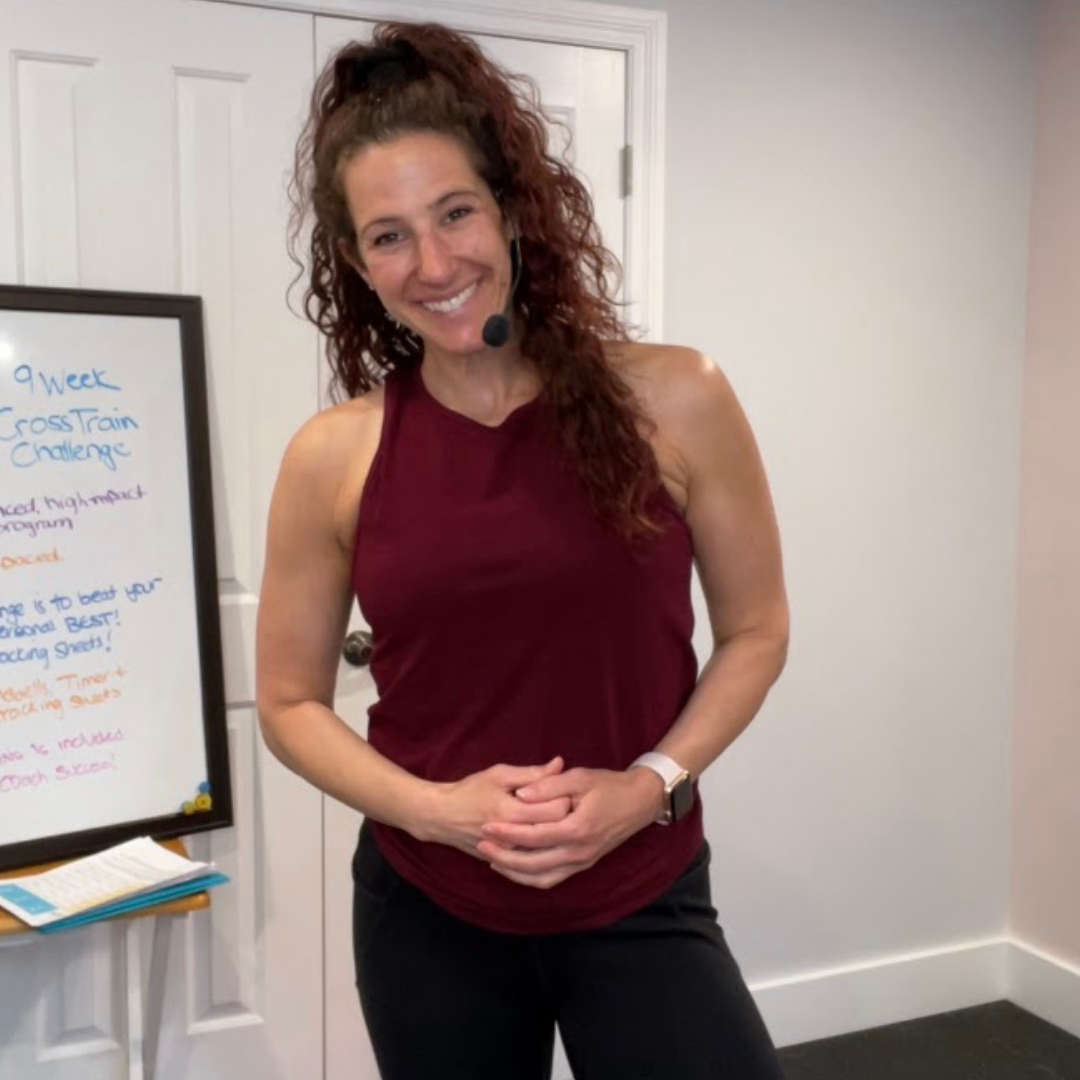 HOWEVER … I am now branching off on my own, away from Jacob's sites.
I am taking control of my content and how it is provided. I am SO EXCITED to be learning & growing – and being able to provide you with even more content and value 🙂
Moving Forward …
Monthly content will now be here on my personal site – www.WhiteLabelWorkouts.com
Subscriptions that you have with Jacob will NOT be valid here as this site is run by ME and not him. He will be in touch with you with steps on how to handle your current subscription.
I have decided to NOT have a monthly subscription – but rather give YOU the freedom to choose & purchase only the month's content that you want. If your content builds up, or you go on vacation, and you don't need a month – you can have full freedom to skip it and not order that month. YOU can choose which month's content you would like to order – and you will do so by coming to this site and purchasing that monthly calendar.
My MAY calendar is currently up. If you have already received MAY content from Jacob's sites – do NOT order this one as you already have the content 🙂 If you have not yet ordered – May is AWESOME – and includes the 10 Minute HIIT full fitness program, a HIIT 21 day challenge, and all your social media content for the whole month!
Get on the LIST for JUNE Content!
To get on the list for JUNE release, please fill out the form below and watch for my email when it is released.
My goal is to get the content to you a full week before month end, so you have time to edit and get it ready for launch. Fill out the form below, then watch for my email around the 23rd of each month.
Some BONUSES for You 🙂
With your first calendar purchase, as a THANK YOU for following me to my new site, please enjoy these EXCLUSIVE BONUSES …
50% OFF all Monthly Calendars – For LIFE!
I am thrilled to offer you 50% off of all monthly calendars – for life! NEVER pay full price for the monthly calendar content.
On the order page, when released, simply use code JACOB50. This coupon is valid FOR LIFE on all monthly content calendars – exclusive to Jacob's subscribers.
Personalized INTRO video – FREE!
My most often asked question I get asked is "HOW do I explain why it's YOU in the videos and not me?" Let ME create a personalized video message for you to share with your clients. I will introduce myself and follow any key points that you would like me to share about how we are connected. I will personalize the video with your name and company name, and any other info you'd like me to share.
This is a $50 value – and my FREE gift to you for your continued support on my website.
Fit Test Guide & Tracking – FREE!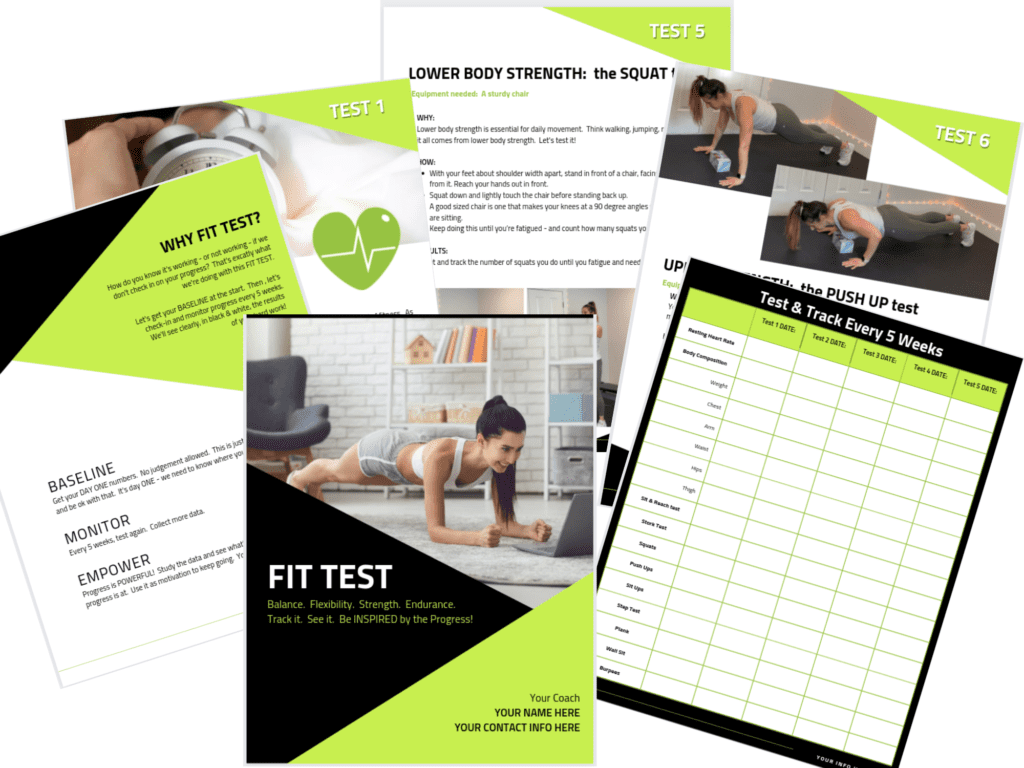 People LOVE seeing progress!! Progress shows that all the hard work and effort are paying off!
Help your clients clearly see how far they've come (and perhaps what they still need to work on!) by providing them with this FIT TEST guide. Encourage them to test at the start of the program, and again periodically. Included are 11 tests – to test body composition, strength, power, endurance and flexibility!
This is a $17 value – and my FREE gift to you for your continued support on my website.
Healthy Habit Guide & Tracking – FREE!
Want to really help your clients see improvements in their lives? It comes from their daily habits!
It's not just workouts that produce results – it's all the other habits from drinking water, getting enough rest, working on a positive mindset, and more. It's all in the Healthy Habit Guide – and it's all done for YOU – ready for you to share! Simply add your name and logo!
This is a $17 value – and my FREE gift to you for your continued support on my website.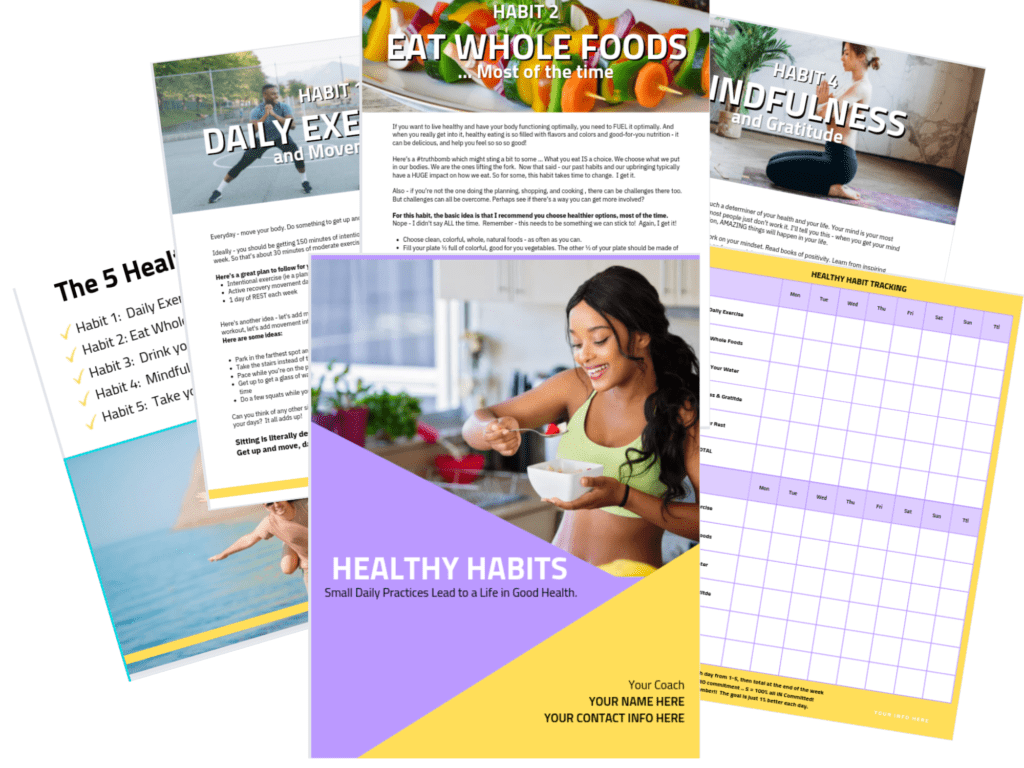 New Client, Goals, and Check-In Forms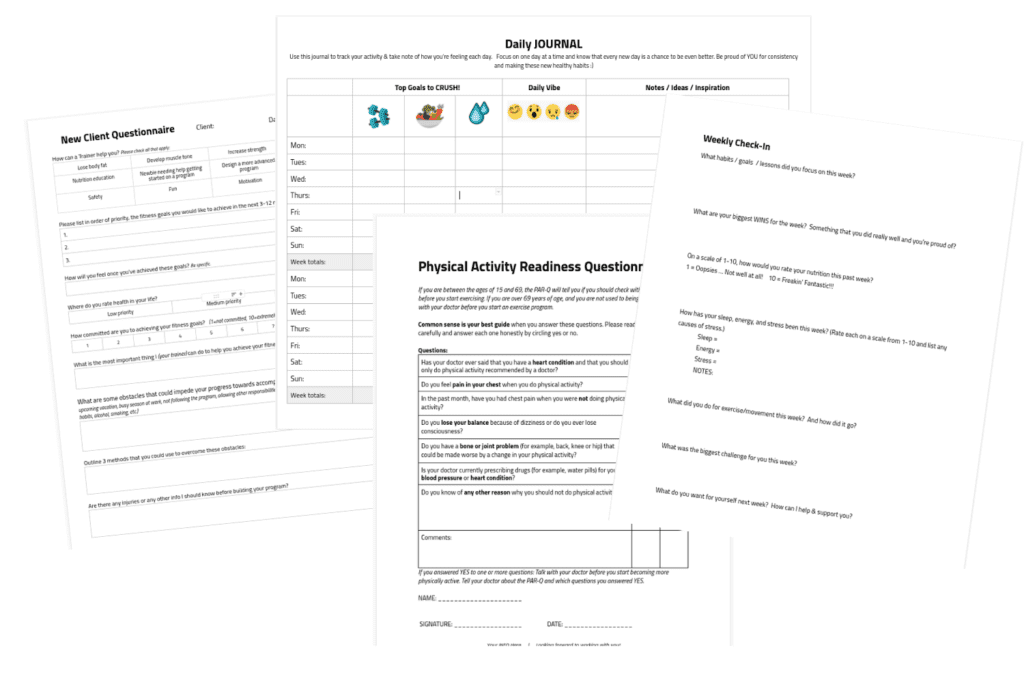 The KEY to retaining clients? Help them get results and work towards their goals! Help them celebrate their wins. Help them tweak when necessary. Cheer them on every step of the way!
Seem like a lot of work? It's actually quite simple – when you have a system that asks the questions and tracks it all for you!
That's EXACTLY what these forms will do for you! Keep your clients longer – by helping them SEE their goals – and make them a reality. Help THEM get what THEY want.
These forms are in Google DOCS and fully EDITABLE so you can use as is – or make them your own.
This is a $17 value – and my FREE gift to you for your continued support on my website.
---
YES! Add me to the List to be Notified of NEW CONTENT – and send me all my FREE BONUSES with my first order!
By clicking the submit button above, you agree to share your email address with the us and Mailchimp to receive marketing, updates, and other emails from White Label Workouts. Use the unsubscribe link in those emails to opt out at any time.
Thank you for your continued support – espcecially through all this time of transition! Here's to TONS more awesome content coming your way 🙂
xoxo Ro 🙂