THIS PROMO HAS NOW EXPIRED.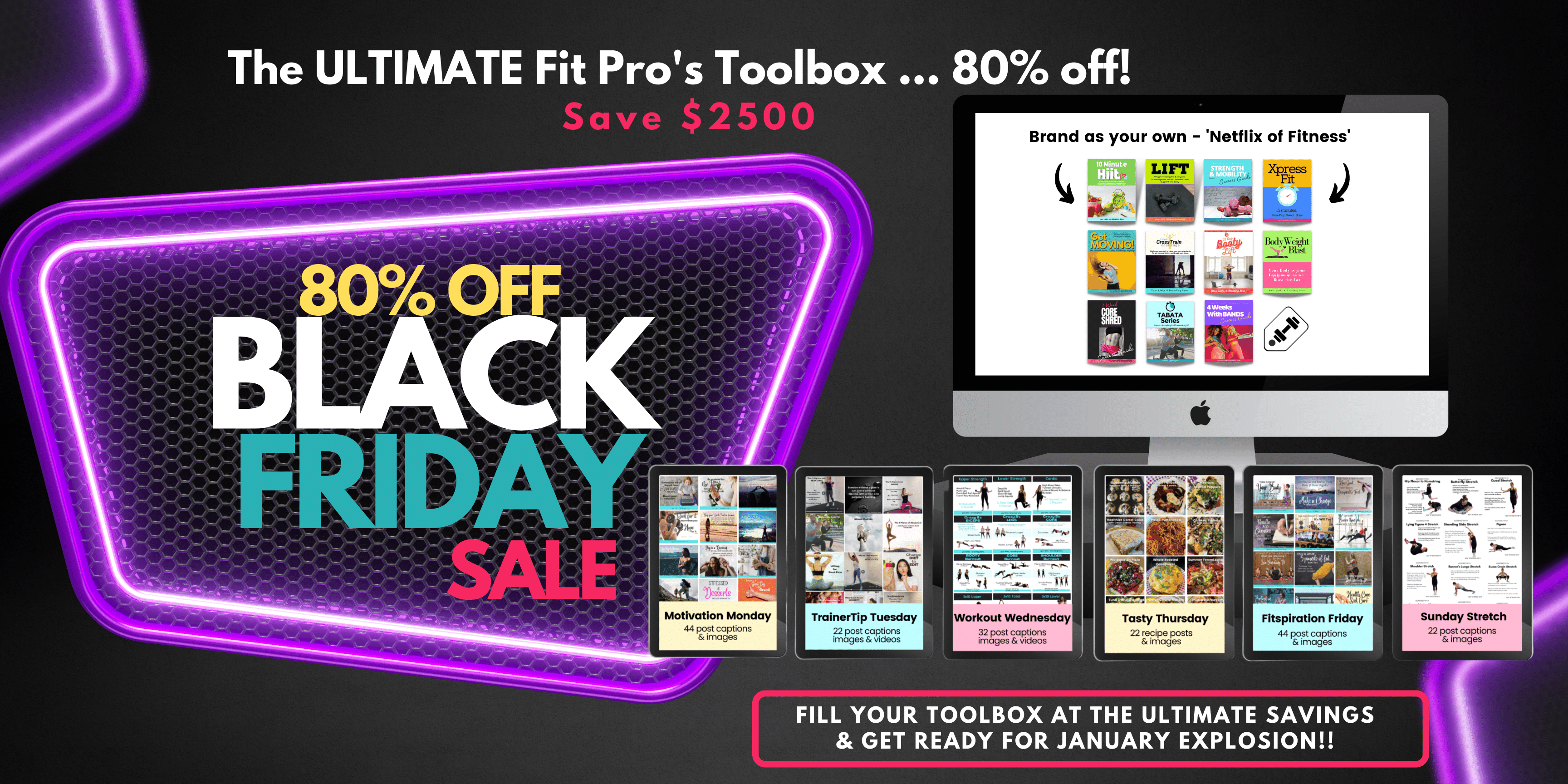 Happy FriYAY friends! If you're anything like me .. your email today is being inundated with emails … and you're having FUN shopping away 🙂
Well … I thought I'd make my Black Friday offer even sweeter ..
TODAY ONLY …
I've created a NEW package … and it's an EVERYTHING INCLUDED pack …
The ULTIMATE Online Fit Pro's TOOLBOX
Here's what you get … (and this is TODAY only as it's an INSANE value!!)
14 White Label FULL Workout Programs (value $3,000)
~ Program include: full length workout videos, workout calendars, tracking sheets, nutrition tips, client support materials, AND lead magnets to help share & sell the program
The 12 Days of FITmas Challenge (value $99)
This is a PERFECT challenge to share with your audience right now … to help you build engagement, trust, and lead to profit for you!
The EPIC Exercise Library 1.0 & 2.0!! (value $199)
Editable image tiles of almost 200 different exercises!! THIS is one of our most popular products .. and it's included with the Complete Coach Toolbox!
JUST ADDED – and I'm crazy for throwing this one in too …
THE SOCIAL MEDIA MEGA PACK 2.0!!! (value $249)
YES! I'm throwing this in too … I'm crazy for doing it!! So act quick before I change my mind! This pack is literally over 6 months of daily social media posts … DONE FOR YOU!! Motivation Monday, TrainerTip Tuesday, Workout Wednesday, Tasty Thursday, Fitspiration Friday, Sunday Stretch. It's all here!! Posts include pre-written captions, image and videos.
Sooo … what are you waiting for? You know January is our BIGGEST EXPLOSION in our Fitness Businesses. Are YOU ready for it? Do you have your content all set to go? If not .. THIS is the time. THIS is your Ultimate Online Fit Pro's Toolbox.
Social media posts to gain a following
Challenges & Lead magnets to build engagement and trust
Exercises to show authority and help you service your clients
FULL workout programs to add MASSIVE value to your business.
All DONE FOR YOU.
It's all White Label – super easy to drop in your own logo & branding … and use to service your clients like the rockstar PRO you are 🙂
SMASH that order button now and get ready to ROCK your FIT BIZ with this ULTIMATE TOOLBOX!!
THIS PROMO IS NOW EXPIRED.
Get INSTANT ACCESS to all 14 White Label Workout Programs, including over 40 hours of workout videos, client success materials, lead magnets and sales & marketing plans for each program. EVERYTHING you need to succeed building you own 'Netflix of Fitness' is included!
Want help with the technical side of setting up your content? Whether you're looking for help with the branding, OR with setting up your website, we're here for you! Email us – we're happy to help!